Evaluation of Patients Satisfaction Level and Quality of Life (QOL) Receiving Physical Therapy Care for Musculoskeletal Disorders in Public and Private Hospitals
Musculoskeletal Disorders
Keywords:
Musculoskeletal Problems, Patient Satisfaction Level, Physical Therapy, Quality of Life
Abstract
Patients' satisfaction is the experience of an attitude and effective response that is related to beliefs that the physiotherapy service provided to patient must have adequate component and dimension. Objective: To measure the satisfaction level and quality of life of patients in both public and private hospitals of Faisalabad. Methods: It was a comparative cross-sectional study with sample size of 278. A simple random sampling technique was used to collect data from patients receiving physical therapy care in both the public and private sectors. The outcome measures of the study were the multidimensional "Queen Mary's Satisfaction Survey" and the "SF-36 Questionnaire" to check level of satisfaction and overall QOL. The collected data were then analyzed by SPSS version-22. Results: About 6.5% patients from government and 35% from private hospitals were highly satisfied from the physiotherapy services.46% patients from government and 64% from private reported to have an excellent quality of life. Independent t-test revealed that p value was less than 0.05 for both satisfaction level and quality of life in patients receiving physiotherapy from private and government sectors of Faisalabad. Conclusions: A significant difference was found between quality of life and satisfaction level of patients receiving physiotherapy from private and government hospitals of Faisalabad. Patients of private hospital reported higher level of satisfaction and QOL as compared to the government hospitals.
References
Govaerts R, Tassignon B, Ghillebert J, Serrien B, De Bock S, Ampe T, et al. Prevalence and incidence of work-related musculoskeletal disorders in secondary industries of 21st century Europe: a systematic review and meta-analysis. BMC Musculoskeletal Disorders. 2021 Dec; 22(1): 1-30. doi: 10.1186/s12891-021-04615-9.
Ng YM, Voo P, Maakip I. Psychosocial factors, depression, and musculoskeletal disorders among teachers. BMC Public Health. 2019 Dec; 19: 1-0. doi: 10.1186/s12889-019-6553-3.
Soylar P, Ozer A. Evaluation of the prevalence of musculoskeletal disorders in nurses: a systematic review. Medicine Science. 2018 Sep; 7(3): 479-85. doi: 10.5455/medscience.2017.06.8747.
Safiri S, Kolahi AA, Cross M, Hill C, Smith E, Carson-Chahhoud K, et al. Prevalence, Deaths, and Disability-Adjusted Life Years Due to Musculoskeletal Disorders for 195 Countries and Territories 1990-2017. Arthritis & Rheumatology. 2021 Apr; 73(4): 702-14. doi: 10.1002/art.41571.
Hendi OM, Abdulaziz AA, Althaqafi AM, Hindi AM, Khan SA, Atalla AA. Prevalence of musculoskeletal disorders and its correlation to physical activity among health specialty students. International Journal of Preventive Medicine. 2019 Apr; 10: 48. doi: 10.4103/ijpvm.IJPVM_436_18.
Holland P and Clayton S. Navigating employment retention with a chronic health condition: a meta-ethnography of the employment experiences of people with musculoskeletal disorders in the UK. Disability and Rehabilitation. 2020 Apr; 42(8): 1071-86. doi: 10.1080/09638288.2018.1519041.
Prall J and Ross M. The management of work-related musculoskeletal injuries in an occupational health setting: the role of the physical therapist. Journal of Exercise Rehabilitation. 2019 Apr; 15(2): 193. doi: 10.12965/jer.1836636.318.
Deslauriers S, Dery J, Proulx K, Laliberte M, Desmeules F, Feldman DE, et al. Effects of waiting for outpatient physiotherapy services in persons with musculoskeletal disorders: a systematic review. Disability and Rehabilitation. 2021 Feb; 43(5): 611-20. doi: 10.1080/09638288.2019.1639222.
Rossettini G, Latini TM, Palese A, Jack SM, Ristori D, Gonzatto S, et al. Determinants of patient satisfaction in outpatient musculoskeletal physiotherapy: a systematic, qualitative meta-summary, and meta-synthesis. Disability and Rehabilitation. 2020 Feb; 42(4): 460-72. doi: 10.1080/09638288.2018.1501102.
Ampiah PK, Ahenkorah J, Karikari M. Patients' satisfaction with inpatient orthopedic physiotherapy services at a Tertiary Hospital in Ghana. Journal of Patient Experience. 2019 Sep; 6(3): 238-46. doi: 10.1177/2374373518793144.
Shakya NR and Shakya B. Patient Satisfaction with Outpatient Physiotherapy Services in Dhulikhel Hospital, Kathmandu University Hospital, Nepal. Kathmandu University Medical Journal. 2019 Mar; 17(65): 46-50.
Odumodu IJ, Olufunlayo TF, Ogunnowo BE, Kalu ME. Satisfaction with services among attendees of physiotherapy outpatient clinics in tertiary hospitals in Lagos State. Journal of Patient Experience. 2020 Aug; 7(4): 468-78. doi: 10.1177/2374373519847370.
Malik MU, Saeed A, Asma S, Khan SU, Tariq H, Dastgir H. Level of Patient Satisfaction with Musculoskeletal Physiotherapy Care in Lahore: Patient Satisfaction with Physiotherapy Care. The Healer Journal of Physiotherapy and Rehabilitation Sciences. 2023 Jul; 3(6): 636-41.
Vestøl I, Debesay J, Pajalic Z, Bergland A. The importance of a good therapeutic alliance in promoting exercise motivation in a group of older Norwegians in the subacute phase of hip fracture; a qualitative study. BMC Geriatrics. 2020 Dec; 20(1): 1-2. doi: 10.1186/s12877-020-01518-7.
Lin Y, Yu Y, Zeng J, Zhao X, Wan C. Comparing the reliability and validity of the SF-36 and SF-12 in measuring quality of life among adolescents in China: a large sample cross-sectional study. Health and Quality of Life Outcomes. 2020 Dec; 18: 1-4. doi: 10.1186/s12955-020-01605-8.
Arovah NI and Heesch KC. Verification of the reliability and validity of the short form 36 scale in Indonesian middle-aged and older adults. Journal of Preventive Medicine and Public Health. 2020 May; 53(3): 180. doi: 10.3961/jpmph.19.324.
Demont A, Bourmaud A, Kechichian A, Desmeules F. The impact of direct access physiotherapy compared to primary care physician led usual care for patients with musculoskeletal disorders: a systematic review of the literature. Disability and Rehabilitation. 2021 Jun; 43(12): 1637-48. doi: 10.1080/09638288.2019.1674388.
Al-Neyadi HS, Abdallah S, Malik M. Measuring patient's satisfaction of healthcare services in the UAE hospitals: Using SERVQUAL. International Journal of Healthcare Management. 2018 Apr; 11(2): 96-105. doi: 10.1080/20479700.2016.1266804.
Tanveer F, Shahid S, Hafeez MM. Impact of doctor's interpersonal communication skill on patient's satisfaction level. Isra Medical Journal. 2018 Sep; 10(5): 306-9.
AisyaPutri AA, Rahmanto S, Utami KP. The Relationship Between The Quality of Physiotherapy Services To The Level of Satisfaction of Patients With Neuromuscular Case Practice Self Physiotherapy In Malang Raya. Jurnal Keperawatan Dan Fisioterapi (JKF). 2023 Apr; 5(2): 341-7. doi: 10.35451/jkf.v5i2.1634.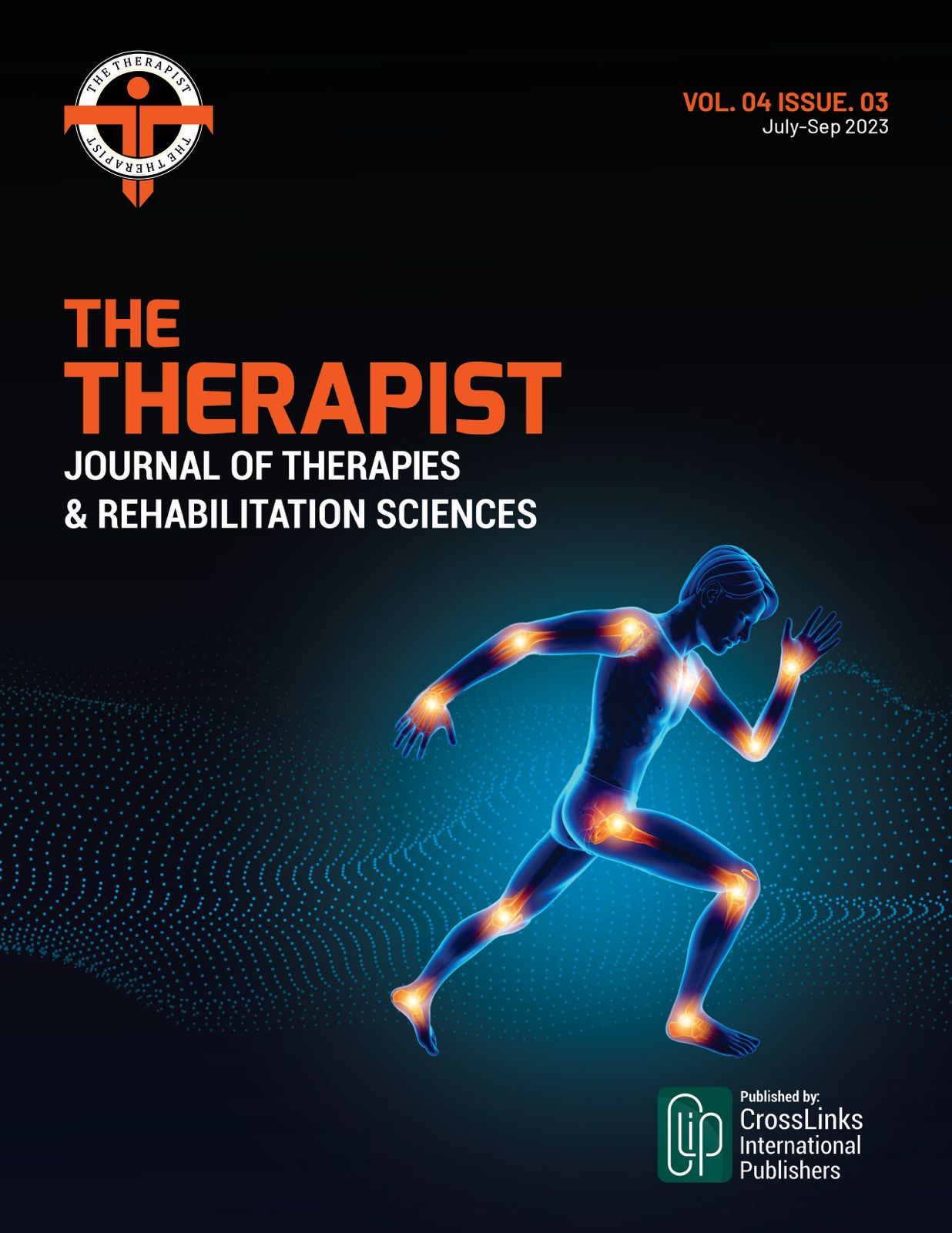 Downloads
CITATION
DOI: 10.54393/tt.v4i03.145
How to Cite
Almas Sabir, H. M. ., Maira, ., Tariq , A. ., Naveed Sheikh, M., Rehman, H. ., Ghaffar, T., Malik, K., Manzoor, U., & Shafique, K. (2023). Evaluation of Patients Satisfaction Level and Quality of Life (QOL) Receiving Physical Therapy Care for Musculoskeletal Disorders in Public and Private Hospitals: Musculoskeletal Disorders. THE THERAPIST (Journal of Therapies &Amp; Rehabilitation Sciences), 4(03), 02–07. https://doi.org/10.54393/tt.v4i03.145
License
Copyright (c) 2023 THE THERAPIST (Journal of Therapies & Rehabilitation Sciences)
This work is licensed under a Creative Commons Attribution 4.0 International License.
This is an open-access journal and all the published articles / items are distributed under the terms of the Creative Commons Attribution License, which permits unrestricted use, distribution, and reproduction in any medium, provided the original author and source are credited. For comments editor@thetherapist.com.pk