Immediate Effect of Ischemic Compression Therapy to Release Suboccipital Trigger Points in Tension-Type Headache among Adult Population of GCUF
Effect of Ischemic Compression Therapy
Keywords:
HIT-6, Ischemic Compression Therapy, Tension-Type Headache, Trigger Points, Visual Analogue Scale
Abstract
Tension-type headache is a nervous illness and characterized by pain, causes stretch on both sides and stiffness which feels like a band or pressure leads to disruption in daily activities. Objective: To see the immediate effects of ischemic compression therapy to release sub-occipital trigger points in tension type headache. Methods: It was a quasi-experimental study. Study population was students and faculty members of GC University, Faisalabad from age between 25 to 35 years. Sample size of the study was 35. A convenient sampling technique was used to select individuals according to the defined inclusion criteria. Trigger points were evaluated by palpating the occipital region. Data collection tools including visual analogue scale (VAS) and HIT-6 was used to measure intensity of pain and tension-type headache. SPSS version 25.0 was used to analyze the data. Results: Post-treatment values of VAS showed the reduction in pain intensity (mean=0.57) as compared to the pre-intervention values (mean = 5.03). A notable reduction in HIT-6 impact from (mean = 65.13) to (mean = 40.40) was observed. Paired sample t-test showed a p-value below 0.05 for both VAS and HIT-6, highlighting the positive effects of ischemic compression therapy to release sub-occipital trigger points in tension type headache. Conclusions: There was a notable reduction of pain intensity immediately after the treatment session. Ischemic compression therapy was significantly effective to release sub-occipital trigger points in patients with tension type headache.
References
Kamali F, Sinaei E, Morovati M. Comparison of upper trapezius and infraspinatus myofascial trigger point therapy by dry needling in overhead athletes with unilateral shoulder impingement syndrome. Journal of Sport Rehabilitation. 2019 Mar; 28(3): 243-9. doi: 10.1123/jsr.2017-0207.
Li L, Stoop R, Clijsen R, Hohenauer E, Fernández-de-Las-Peñas C, Huang Q, et al. Criteria used for the diagnosis of myofascial trigger points in clinical trials on physical therapy: updated systematic review. The Clinical Journal of Pain. 2020 Dec; 36(12): 955-67. doi: 10.1097/AJP.0000000000000875.
Masarwa R, Uri O, Peled G, Laufer G, Gutman G, Behrbalk E. Myofascial trigger-point compression therapy as an adjunct to exercise program is superior in alleviating chronic low back pain compared to exercise program alone-A retrospective non-randomized study. Research Square. 2021 Jan: 1-10. doi: 10.21203/rs.3.rs-32741/v2.
Haman MA. Physical Therapy Management of Suboccipital Trigger Points and Upper Trapezius Tightness with Associated Migraines and Neck Pain. Physical Therapy Scholarly Projects. 2021 May; 744: 1-37.
Jung A, Eschke RC, Struss J, Taucher W, Luedtke K. Effectiveness of physiotherapy interventions on headache intensity, frequency, duration and quality of life of patients with tension-type headache. A systematic review and network meta-analysis. Cephalalgia. 2022 Aug; 42(9): 944-65. doi: 10.1177/03331024221082073.
Genizi J, Bugdnoskya V, Aboud A, Segal I, Assaf N, Srugo I, et al. Migraine and tension-type headache among children and adolescents: application of international headache society criteria in a clinical setting. Journal of Child Neurology. 2021 Jul; 36(8): 618-24. doi: 10.1177/0883073820988417.
García-Azorín D, Farid-Zahran M, Gutiérrez-Sánchez M, González-García MN, Guerrero AL, Porta-Etessam J. Tension-type headache in the Emergency Department Diagnosis and misdiagnosis: The TEDDi study. Scientific Reports. 2020 Feb; 10(1): 2446. doi: 10.1038/s41598-020-59171-4.
Kamonseki DH, Lopes EP, van der Meer HA, Calixtre LB. Effectiveness of manual therapy in patients with tension-type headache. A systematic review and meta-analysis. Disability and Rehabilitation. 2022 May; 44(10): 1780-9. doi: 10.1080/09638288.2020.1813817.
Burch R. Migraine and tension-type headache: diagnosis and treatment. Medical Clinics. 2019 Mar; 103(2): 215-33. doi: 10.1016/j.mcna.2018.10.003.
Otadi K, Sarafraz H, Jalaie S, Rasouli O. Combining patient education with dry needling and ischemic compression for treating myofascial trigger points in office workers with neck pain: a single-blinded, randomized trial. Journal of Chiropractic Medicine. 2020 Dec; 19(4): 222-9. doi: 10.1016/j.jcm.2020.02.005.
Bukhari SN and Khan T. Comparison between Effects of Ischemic Compression Therapy and Deep Friction Massage Therapy for Trigger Points in Neck and Upper Back. Journal Riphah College of Rehabilitation Sciences. 2020 Jul; 8(01): 29-32. doi: 10.5455/JRCRS.202008SI07.
Kisilewicz A, Janusiak M, Szafraniec R, Smoter M, Ciszek B, Madeleine P, et al. Changes in muscle stiffness of the trapezius muscle after application of ischemic compression into myofascial trigger points in professional basketball players. Journal of Human Kinetics. 2018 Sep; 64: 35. doi: 10.2478/hukin-2018-0043.
Esparza D, Aladro-Gonzalvo AR, Rybarczyk Y. Effects of local ischemic compression on upper limb latent myofascial trigger points: a study of subjective pain and linear motor performance. Rehabilitation Research and Practice. 2019 Mar; 2019: 5360924. doi: 10.1155/2019/5360924.
Rezaei S, Shadmehr A, Tajali SB, Moghadam BA, Jalaei S. The effect of laser therapy and ischemic compression on active trigger points in upper trapezius muscle. Journal of Modern Rehabilitation. 2019 Oct; 13(4): 221-6. doi: 10.32598/JMR.13.4.221.
Benito-de-Pedro M, Becerro-de-Bengoa-Vallejo R, Elena Losa-Iglesias M, Rodríguez-Sanz D, López-López D, Palomo-López P, et al. Effectiveness of deep dry needling vs ischemic compression in the latent myofascial trigger points of the shortened triceps surae from triathletes on ankle dorsiflexion, dynamic, and static plantar pressure distribution: A clinical trial. Pain Medicine. 2020 Feb; 21(2): 172-81. doi: 10.1093/pm/pnz222.
Togha M, Bahrpeyma F, Jafari M, Nasiri A. A sonographic comparison of the effect of dry needling and ischemic compression on the active trigger point of the sternocleidomastoid muscle associated with cervicogenic headache: A randomized trial. Journal of Back and Musculoskeletal Rehabilitation. 2020 Jan; 33(5): 749-59. doi: 10.3233/BMR-171077.
Rastogi R, Chaturvedi DK, Gupta M. Efficacy of study for correlation of TTH vs age and gender factors using EMG biofeedback technique. International Journal of Applied Research on Public Health Management (IJARPHM). 2020 Jan; 5(1): 49-166. doi: 10.4018/IJARPHM.2020010104.
Khan U, Akhter S, Khan M, Baig AA. Effectiveness of ischemic compression pressure versus spray and stretch technique in managing active myofascial trigger points of the trapezius muscle. International Journal of Endorsing Health Science Research. 2021 Sep; 9(3): 315-21. doi: 10.29052/IJEHSR.v9.i3.2021.315-321.
Niemaszyk A and Zdrodowska A. Trigger point therapy–ischemic compression or perhaps cupping? Biomedical Human Kinetics. 2022; 14(1): 236-43. doi: 10.2478/bhk-2022-0029.
Panzeri M, Ryvlin P, Staeger P, Gautschi R, Amstutz V. Myofascial approach in tension-type headache management: a scientific assessment. Revue Medicale Suisse. 2020 Mar; 16(687): 600-5. doi: 10.53738/REVMED.2020.16.687.0600.
Tao QF, Wang XY, Feng SJ, Xiao XY, Shi YZ, Xie CR, et al. Efficacy of acupuncture for tension-type headache prophylaxis: systematic review and meta-analysis with trial sequential analysis. Journal of Neurology. 2023 Jul; 270(7): 3402-12. doi: 10.1007/s00415-023-11695-1.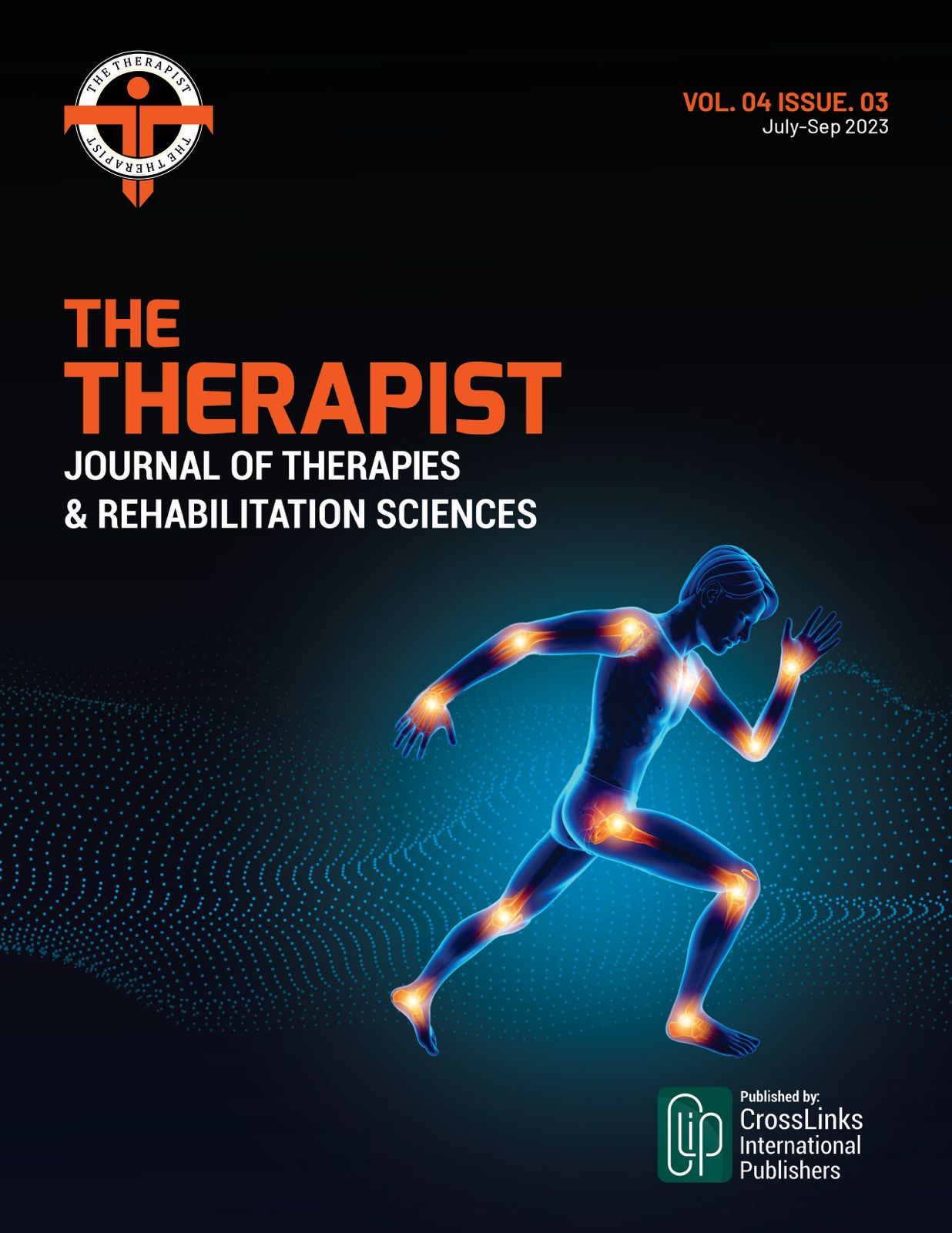 Downloads
CITATION
DOI: 10.54393/tt.v4i03.156
How to Cite
Ghaffar, T., Nadeem, N., Saleem, S., Ahmad, I., Ajmal, M., Javed, H., & Khalid, A. (2023). Immediate Effect of Ischemic Compression Therapy to Release Suboccipital Trigger Points in Tension-Type Headache among Adult Population of GCUF : Effect of Ischemic Compression Therapy. THE THERAPIST (Journal of Therapies &Amp; Rehabilitation Sciences), 4(03), 13–17. https://doi.org/10.54393/tt.v4i03.156
License
Copyright (c) 2023 THE THERAPIST (Journal of Therapies & Rehabilitation Sciences)
This work is licensed under a Creative Commons Attribution 4.0 International License.
This is an open-access journal and all the published articles / items are distributed under the terms of the Creative Commons Attribution License, which permits unrestricted use, distribution, and reproduction in any medium, provided the original author and source are credited. For comments editor@thetherapist.com.pk