Diet and Physical Activity Among Gallstone Patients
Abstract
Gallstones disease has become the most common disease now a days. The dietary factor and physical activity plays an important role in the development of gallstones. These were the major risk factor in gallstones. Objective: The aim of the study is to find the linked between dietary habits and physical activity with gallstones Methods: It was a cross-sectional study conducted at Sir Ganda Ram hospital and Mayo hospital by including 100 patients in 4 months. Mostly the patients were above 30 years of age.Results: 56% males and females had more than 200mg/dl of cholesterol level, majority of males and females did not do indoor exercise that was 59%, 63% of males and females walk less than 30 minutes and 55% of males and females did not climb stairs and 72% males and females had sedentary lifestyle. 70% males and females eat outside only on weekend and holidays, 91% males and females eat fatty food and 78% males and females eat junk food and Results of current study 85% males and females eat 1 cup of sweets, 48% males and females take 1 piece of white bread and 95% males and females drinks 1 cup of whole milk Conclusion: Increased cholesterol level and sedentary lifestyle were increasing the incidence of the gallstones. Refined foods, junk foods and fried foods replaced healthy food which was the major cause of gallstones.
References
: Mahan KL, Escott-Stump S. Krause's food and nutrition therapy, 12 edition, Canada / Saunders Elsevier / 2008 / page no. 728.
: Schwab M. Encyclopedia of Cancer, 3rd edition, Heidelberg, Germany /Springer/2011/page no.1493.
: Gaby AR. Nutritional approaches to prevention and treatment of gallstones. Alternative medicine review. 2009 Sep 1; 14(3):258.
: Sachdeva S, Khan Z, Ansari MA, Khalique N, Anees A. Lifestyle and gallstone disease: scope for primary prevention. Indian journal of community medicine: official publication of Indian Association of Preventive & Social Medicine. 2011 Oct; 36(4):263.
: Shaffer EA. Epidemiology of gallbladder stone disease. Best Practice & Research Clinical Gastroenterology. 2006 Dec 31; 20(6):981-96.
: Njeze GE. Gallstones. Nigerian Journal of Surgery : Official Publication of the Nigerian Surgical Research Society, 2013,19(2): 49–55. http://doi.org/10.4103/1117-6806.119236.
: Acalovschi M. Cholesterol gallstones: from epidemiology to prevention. Postgraduate Medical Journal. 2001; 77(906):221.
: Lee JY, Keane MG, Pereira S. Diagnosis and treatment of gallstone disease. The Practitioner. 2015; 259(1783):15-9.
: Gu YC, He XD, Yu JC, Kang WM, Tao LY, Wu Q. Metabolism-related risk factors of cholelithiasis among Beijing residents: a case-control study. Zhongguo yi xue ke xue yuan xue bao. Acta Academiae Medicinae Sinicae. 2012; 34(1):38-40.
: Ansari-Moghaddam A, Khorram A, Miri-Bonjar M, Mohammadi M, Ansari H. The prevalence and risk factors of gallstone among adults in South-East of Iran: A population-based study. Global journal of health science. 2016; 8(4):60.
: Henao-Morán S, Denova-Gutiérrez E, Morán S, Duque X, Gallegos-Carrillo K, Macías N, Salmerón J. Recreational physical activity is inversely associated with asymptomatic gallstones in adult Mexican women. Annals of hepatology. 2014; 13(6):810.
: Channa NA, Khand F. Gallstones and their risk factors: an epidemiologic investigation in Southern Sindh, Pakistan. Rawal Medical Journal. 2013, 38(4).
: Tsai CJ, Leitzmann MF, Willett WC, Giovannucci EL. Dietary carbohydrates and glycemic load and the incidence of symptomatic gall stone disease in men. Gut. 2005; 54(6):823-8.
: Panpimanmas S, Manmee C. Risk factors for gallstone disease in a Thai population. Journal of epidemiology. 2009; 19(3):116-21.
: Goktas SB, Manukyan M, Selimen D. Evaluation of Factors Affecting the Type of Gallstone. Indian Journal of Surgery. 2016; 78(1):20-6.
: Barré A, Gusto G, Cadeau C, Carbonnel F, Boutron-Ruault MC. Diet and Risk of Cholecystectomy: A Prospective Study Based on the French E3N Cohort. The American journal of gastroenterology. 2017.
Shanmugam H, Molina Molina E, Di Palo DM, Faienza MF, Di Ciaula A, Garruti G, Wang DQH, Portincasa P. Physical Activity Modulating Lipid Metabolism in Gallbladder Diseases. J Gastrointestin Liver Dis. 2020;29(1):99-110. doi: 10.15403/jgld-544.
Aune D, Leitzmann M, Vatten LJ. Physical Activity and the Risk of Gallbladder Disease: A Systematic Review and Meta-Analysis of Cohort Studies. J Phys Act Health. 2016;13(7):788-95. doi: 10.1123/jpah.2015-0456.
Zhang YP, Zhao YL, Sun YL, Zhu RT, Wang WJ, Li J. Physical Activity and the Risk of Gallstone Disease: A Systematic Review and Meta-analysis. J Clin Gastroenterol. 2017;51(9):857-868. doi: 10.1097/MCG.0000000000000571.
Martínez García RM, Jiménez Ortega AI, Salas-González MªD, Bermejo López LM, Rodríguez-Rodríguez E. Intervención nutricional en el control de la colelitiasis y la litiasis renal [Nutritional intervention in the control of gallstones and renal lithiasis]. Nutr Hosp. 2019;36(Spec No3):70-74. Spanish. doi: 10.20960/nh.02813.
Di Ciaula A, Garruti G, Frühbeck G, De Angelis M, de Bari O, Wang DQ, Lammert F, Portincasa P. The Role of Diet in the Pathogenesis of Cholesterol Gallstones. Curr Med Chem. 2019;26(19):3620-3638. doi: 10.2174/0929867324666170530080636.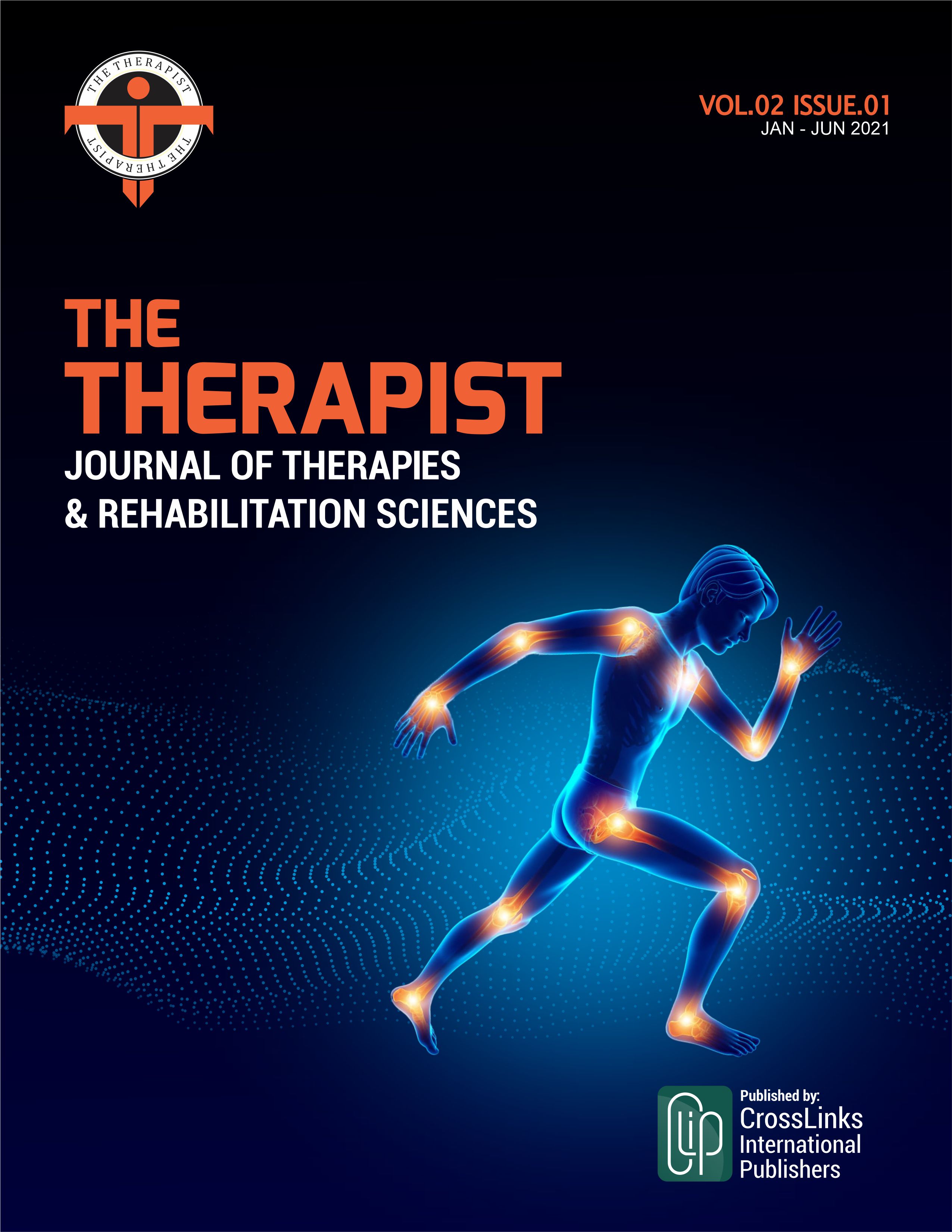 Downloads
How to Cite
Ahmad, A., Khan, M. A., Khalid, S., Bhatti, Q.- ul-A. ., Yousaf, R., & Kaleem, A. (2021). Diet and Physical Activity Among Gallstone Patients. THE THERAPIST (Journal of Therapies &Amp; Rehabilitation Sciences), 2(1), 18–22. https://doi.org/10.54393/tt.v2i1.21
License
Copyright (c) 2021 THE THERAPIST (Journal of Therapies & Rehabilitation Sciences)
This work is licensed under a Creative Commons Attribution 4.0 International License.
This is an open-access journal and all the published articles / items are distributed under the terms of the Creative Commons Attribution License, which permits unrestricted use, distribution, and reproduction in any medium, provided the original author and source are credited. For comments editor@thetherapist.com.pk