Polycystic Ovarian Syndrome in Female players
Keywords:
Polycystic ovary syndrome, Performance, Sport, Females, Players
Abstract
P
Polycystic Ovarian Syndrome (PCOS) is quiet common gynecological disorders in recent times and has affected adversely the population. It causes infertility among females by disturbing the ovulatory process during menstruation. It impairs the female endocrine system and causes an increased level of male hormones. It has multiple etiologies such as genetic, environmental, life style but the pathogenesis is not clear. Molecular pathways and key players involved are yet ambiguous. It is polygenic with multiple etiologies and multiple symptoms. PCOS arise during puberty and a marked feature is insulin resistance. Awareness regarding PCOS among females is very less and they are unaware mostly about this condition. More researches are required for awareness regarding management of PCOS through life style modification such as diet, physical activity. Diagnosis and treatment should also be done timely at an early phase.
References
Hossein KJ, Leila KJ, Ebrahim TK, Nazanin SJ, Farzad P and Elham R et al. The Effect of Pomegranate Juice Extract on Hormonal Changes of Female Wistar Rats Caused by Polycystic Ovarian Syndrome. Biomed Pharmacol J. 2015;8(2). doi.org/10.13005/bpj/849.
Lebrun CM and Rumball JS. Relationship between athletic performance and menstrual cycle. Current Women's Health Reports. 2001 Dec;1(3):232-240.
Lua ACY, How CH and King TFJ. Managing polycystic ovary syndrome in primary care. Singapore Med J. 2018;59(11):567-571. doi:10.11622/smedj.2018135.
Kitzinger C and Willmott J. 'The thief of womanhood': women's experience of polycystic ovarian syndrome. Soc Sci Med. 2002;54(3):349-61. doi: 10.1016/s0277-9536(01)00034-x.
Jalilian A, Kiani F, Sayehmiri F, Sayehmiri K, Khodaee Z and Akbari M. Prevalence of polycystic ovary syndrome and its associated complications in Iranian women: A meta-analysis. Iran J Reprod Med. 2015;13(10):591-604.
Janse de Jonge XA. Effects of the menstrual cycle on exercise performance. Sports Med. 2003;33(11):833-51. doi: 10.2165/00007256-200333110-00004.
Goodman LR and Warren MP. The female athlete and menstrual function. Curr Opin Obstet Gynecol. 2005;17(5):466-70. doi: 10.1097/01.gco.0000179262.07720.ae.
Constantini NW, Dubnov G and Lebrun CM. The menstrual cycle and sport performance. Clin Sports Med. 2005;24(2):e51-82, xiii-xiv. doi: 10.1016/j.csm.2005.01.003.
Spritzer PM, Barone CR and Oliveira FB. Hirsutism in Polycystic Ovary Syndrome: Pathophysiology and Management. Curr Pharm Des. 2016;22(36):5603-5613. doi: 10.2174/1381612822666160720151243.
Kopera D, Wehr E and Obermayer-Pietsch B. Endocrinology of hirsutism. Int J Trichology. 2010;2(1):30-35. doi:10.4103/0974-7753.66910.
Ekbäck M, Engfeldt P and Benzein E. "We feel rejected": experiences of women with hirsutism consulting physicians. J Psychosom Obstet Gynaecol. 2011;32(3):157-9. doi: 10.3109/0167482X.2011.599461.
Chuan SS and Chang RJ. Polycystic ovary syndrome and acne. Skin Therapy Lett. 2010;15(10):1-4.
Barbarino A, De Marinis L, Tofani A, Della Casa S, D'Amico C and Mancini A et al. Corticotropin-releasing hormone inhibition of gonadotropin release and the effect of opioid blockade. J Clin Endocrinol Metab. 1989;68(3):523-8. doi: 10.1210/jcem-68-3-523.
Gainder S and Sharma B. Update on Management of Polycystic Ovarian Syndrome for Dermatologists. Indian Dermatol Online J. 2019;10(2):97-105. doi:10.4103/idoj.IDOJ_249_17.
Teede HJ, Misso ML, Costello MF, Dokras A, Laven J and Moran L et al. Recommendations from the international evidence-based guideline for the assessment and management of polycystic ovary syndrome. Hum Reprod. 2018;33(9):1602-1618. doi:10.1093/humrep/dey256.
Sam S. Obesity and Polycystic Ovary Syndrome. Obes Manag. 2007;3(2):69-73. doi:10.1089/obe.2007.0019.
Hajimonfarednejad M, Nimrouzi M, Heydari M, Zarshenas MM, Raee MJ and Jahromi BN. Insulin resistance improvement by cinnamon powder in polycystic ovary syndrome: A randomized double-blind placebo controlled clinical trial. Phytother Res. 2018;32(2):276-283. doi: 10.1002/ptr.5970.
Keegan A, Liao LM and Boyle M. 'Hirsutism': a psychological analysis. J Health Psychol. 2003;8(3):327-45. doi: 10.1177/13591053030083004.
Bazarganipour F, Ziaei S, Montazeri A, Foroozanfard F, Kazemnejad A and Faghihzadeh S. Body image satisfaction and self-esteem status among the patients with polycystic ovary syndrome. Iran J Reprod Med. 2013;11(10):829-36.
Dokras A. Mood and anxiety disorders in women with PCOS. Steroids. 2012;77(4):338-41. doi: 10.1016/j.steroids.2011.12.008.
Mousiolis A, Michala L and Antsaklis A. Polycystic ovary syndrome: double click and right check. What do patients learn from the Internet about PCOS? Eur J Obstet Gynecol Reprod Biol. 2012;163(1):43-6. doi: 10.1016/j.ejogrb.2012.03.028.
Teede H, Gibson-Helm M, Norman RJ and Boyle J. Polycystic ovary syndrome: perceptions and attitudes of women and primary health care physicians on features of PCOS and renaming the syndrome. J Clin Endocrinol Metab. 2014;99(1):E107-11. doi: 10.1210/jc.2013-2978.
Barrack MT, Ackerman KE and Gibbs JC. Update on the female athlete triad. Curr Rev Musculoskelet Med. 2013;6(2):195-204. doi: 10.1007/s12178-013-9168-9.
Enns DL and Tiidus PM. The influence of estrogen on skeletal muscle: sex matters. Sports Med. 2010;40(1):41-58. doi: 10.2165/11319760-000000000-00000.
Loucks AB, Verdun M and Heath EM. Low energy availability, not stress of exercise, alters LH pulsatility in exercising women. J Appl Physiol (1985). 1998;84(1):37-46. doi: 10.1152/jappl.1998.84.1.37.
Kozica SL, Gibson-Helm ME, Teede HJ and Moran LJ. Assessing self-efficacy and self-help methods in women with and without Polycystic Ovary Syndrome. Behav Med. 2013;39(3):90-6. doi: 10.1080/08964289.2012.720312.
Bruinvels G, Burden RJ, McGregor AJ, Ackerman KE, Dooley M and Richards T et al. Sport, exercise and the menstrual cycle: where is the research? Br J Sports Med. 2017;51(6):487-488. doi: 10.1136/bjsports-2016-096279.
Unluturk U, Harmanci A, Kocaefe C and Yildiz BO. The Genetic Basis of the Polycystic Ovary Syndrome: A Literature Review Including Discussion of PPAR-gamma. PPAR Res. 2007;2007:49109. doi: 10.1155/2007/49109.
Mutharasan P, Galdones E, Peñalver Bernabé B, Garcia OA, Jafari N and Shea LD et al. Evidence for chromosome 2p16.3 polycystic ovary syndrome susceptibility locus in affected women of European ancestry. J Clin Endocrinol Metab. 2013;98(1):E185-90. doi: 10.1210/jc.2012-2471.
Costello JT, Bieuzen F and Bleakley CM. Where are all the female participants in Sports and Exercise Medicine research? Eur J Sport Sci. 2014;14(8):847-51. doi: 10.1080/17461391.2014.911354.
Witchel SF, Oberfield SE and Peña AS. Polycystic Ovary Syndrome: Pathophysiology, Presentation, and Treatment With Emphasis on Adolescent Girls. J Endocr Soc. 2019;3(8):1545-1573. Published 2019 Jun 14. doi:10.1210/js.2019-00078.
Hirschberg AL. Female hyperandrogenism and elite sport. Endocrine connections. 2020;9(4):R81-92.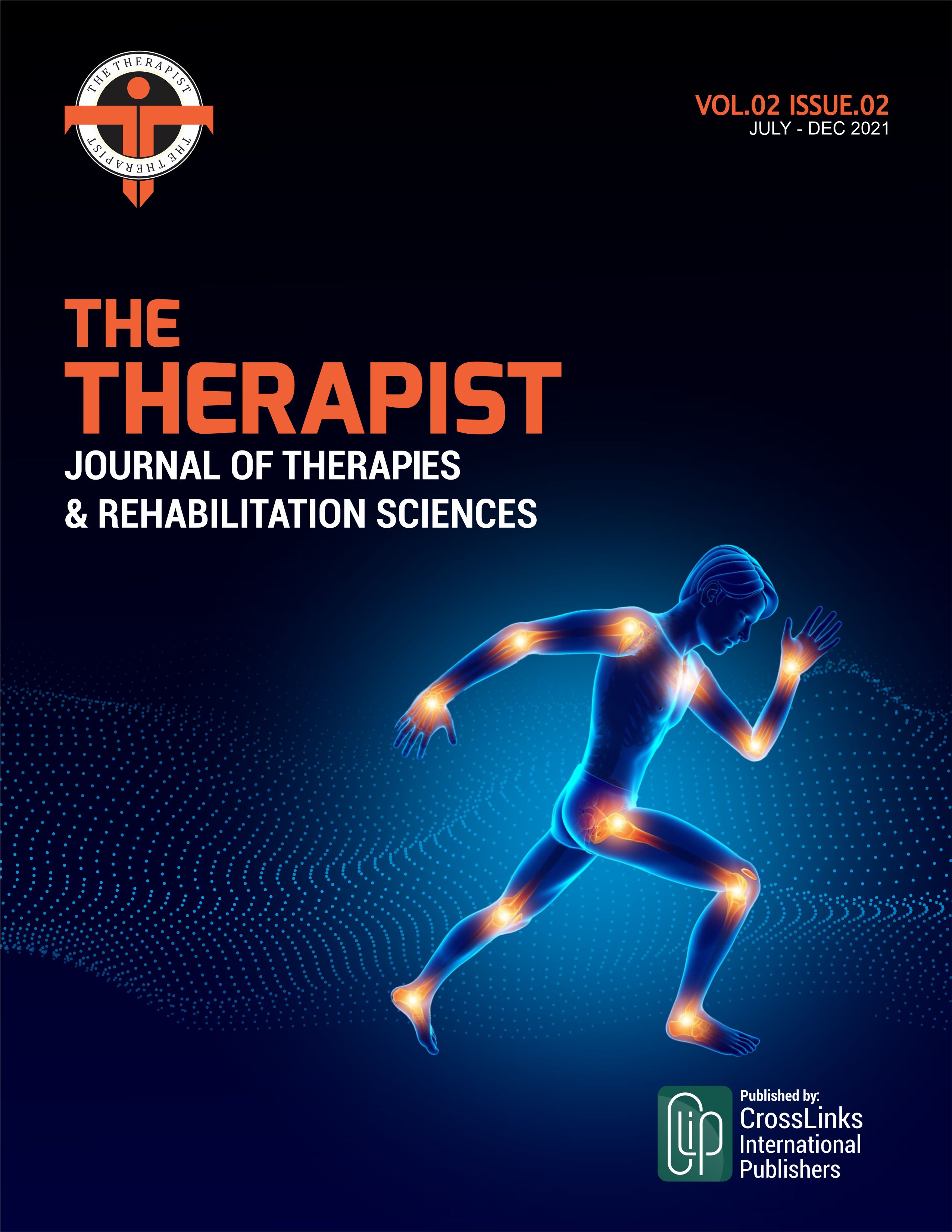 Downloads
How to Cite
Zahra, S. M. ., & Ahmed, B. (2021). Polycystic Ovarian Syndrome in Female players. THE THERAPIST (Journal of Therapies &Amp; Rehabilitation Sciences), 2(2), 29–32. https://doi.org/10.54393/tt.v2i2.31
License
Copyright (c) 2021 THE THERAPIST (Journal of Therapies & Rehabilitation Sciences)
This work is licensed under a Creative Commons Attribution 4.0 International License.
This is an open-access journal and all the published articles / items are distributed under the terms of the Creative Commons Attribution License, which permits unrestricted use, distribution, and reproduction in any medium, provided the original author and source are credited. For comments editor@thetherapist.com.pk