Measurement of Uterus Sizes Of Multiparous Women using Ultrasound
Uterus Sizes Of Multiparous Women using Ultrasound
Keywords:
Uterus, Multiparous, Ultrasound, Pregnancy
Abstract
Human uterus is a pear-shaped fibromuscular organ. The measurements of a typical uterus are 7.6x4. 5x3cm. The uterus grows slowly during fetal life until the end of the first trimester when it grows at a higher rate due to increased maternal oestrogen production. As a result of this continuation of the maternal oestrogen the uterus shrinks immediately after delivery. Objective: To evaluate uterus size in multiparous women using ultrasound. Methods: It was a cross-sectional study carried out at private sector hospital of Gujrat over 4 months period from December 2021 to March 2022. The sample size was 41 calculated via a convenient sampling approach from previously published studies. Multiparous women following ultrasound examination during the study period were included after receiving informed consent. The patients' demographic statistics were collected on a specially designed data collecting sheet. The data was analyzed using the SSPS V20 program. Results: The average length was 7.9±1.15, width was 4.3±0.77, and thickness 3.5±0.66. There was no significant correlation between uterine size (length, width, thickness) and many parities because the value in the "Sig. (2-tailed)" is 0.607, 0.640, and 0.983 respectively which is more than 0.05.Conclusion: The current study found no correlation between the number of parities and the length, width, and thickness diameters of the uterus.
References
Tsili AC. Uterus: Normal Findings. MRI and CT of the Female Pelvis: Springer; 2017;45-60.
Gossman W, Fagan S, Sosa-Stanley J, Peterson D. Anatomy, abdomen and pelvis, uterus. 2017.
Mohammed ANA. Measurement of Uterine Size Multiparous Women Using Ultrasonography: Sudan University of Science And Technology; 2016.
Ellis HJA, Medicine IC. Anatomy of the uterus. 2011 March; 12(3):99-101.
Puntambekar S, Puntambekar S, Telang M, Kulkarni P, Date S, Panse M, et al. Novel anastomotic technique for uterine transplant using utero-ovarian veins for venous drainage and internal iliac arteries for perfusion in two laparoscopically harvested uteri. Journal of Minimally Invasive Gynecology 2019 Jun; 26(4):628-635. doi: 10.1016/j.jmig.2018.11.021.
Ameer MA, Fagan SE, Sosa-Stanley JN, Peterson DCJS. Anatomy, abdomen and pelvis, uterus. 2021 Aug.
Ellis H. Anatomy of the uterus. Anaesthesia & Intensive Care Medicine. 2011 Mar; 12(3):99-101.
Tamura K, Hasegawa K, Katsumata N, Matsumoto K, Mukai H, Takahashi S, et al. Efficacy and safety of nivolumab in Japanese patients with uterine cervical cancer, uterine corpus cancer, or soft tissue sarcoma: Multicenter, open‐label phase 2 trial. Cancer Science. 2019 Sep; 110(9):2894-2904. doi: 10.1111/cas.14148.
Ezzedine D, Norwitz ERJCo, gynecology. Are women with uterine fibroids at increased risk for adverse pregnancy outcome? Clinical obstetrics & gynaecology. 2016 Mar; 59(1):119-27. doi: 10.1097/GRF.0000000000000169.
Parmar AM, Agarwal D, Hathila N, Singel TJIJoMS, Education. Sonographic measurements of uterus and its correlation with different parameters in parous and nulliparous women. 2016 Jul; 3:306-310.
Craig ME, Sudanagunta S, Billow M. Anatomy, abdomen and pelvis, broad ligaments. 2018.
Al‐Zirqi I, Stray‐Pedersen B, Forsén L, Vangen SJBAIJoO, Gynaecology. Uterine rupture after previous caesarean section. British journal of obstetrics and gynaecology. 2010 Jun; 117(7):809-20. doi: 10.1111/j.1471-0528.2010.02533.x.
Hochler H, Wainstock T, Lipschuetz M, Sheiner E, Ezra Y, Yagel S, et al. Induction of labor in women with a scarred uterus: does grand multiparity affect the risk of uterine rupture? American Journal of Obstetrics and Gynecology MFM. 2020 Feb; 2(1):100081. doi: 10.1016/j.ajogmf.2019.100081.
Esmaelzadeh S, Rezaei N, HajiAhmadi MJE-EMHJ, 10 , 437-441,. Normal uterine size in women of reproductive age in northern Islamic Republic of Iran. Eastern Mediterranean Health Journal 2004 May; 10(3):437-41. doi.org/10.26719/2004.10.3.437
Umar UM, Isyaku K, Adamu YM, Abubakar S, Kabo N, Nura I, et al. Sonographic measurement of uterine dimensions in healthy nulliparous adults in Northwestern Nigeria. 2017 Jan; 20(1):1.
Turocy JM, Rackow BW, editors. Uterine factor in recurrent pregnancy loss. Seminars in Perinatology; 2019 Mar;43(2):74-79. doi: 10.1053/j.semperi.2018.12.003.
Al Naimi A, Wolnicki B, Mouzakiti N, Reinbach T, Louwen F, Bahlmann FJAog, et al. Anatomy of the sonographic post-cesarean uterus. 2021;304(6):1485-1491. Archives of Gynecology and Obstetrics. 2021 Dec; 304(6):1485-1491. doi: 10.1007/s00404-021-06074-y.
Kaelin Agten A, Honart A, Monteagudo A, McClelland S, Basher B, Timor‐Tritsch IEJJoUiM. Cesarean delivery changes the natural position of the uterus on transvaginal ultrasonography. Journal of Ultrasound in Medicine 2018 May; 37(5):1179-1183. doi: 10.1002/jum.14461.
Gothwal M, Singh P, Bharti JN, Yadav G, Solanki VJIJoA, Research BM. Giant cervical angiomyomatous polyp masquerading third-degree uterine prolapse: A rare case with review of literature. International journal of applied and basic medical research 2019 Dec; 9(4):256-258. doi: 10.4103/ijabmr.IJABMR_386_18.
Liao W-L, Ying T-H, Shen H-P, Wu P-JJTJoO, Gynecology. Combined treatment for big submucosal myoma with High Intensity Focused Ultrasound and hysteroscopic resection. Taiwanese Journal of Obstetrics and Gynecology 2019 Nov; 58(6):888-890. doi: 10.1016/j.tjog.2019.04.001.
Slavchev S, Kostov S, Yordanov AJM. Pregnancy and childbirth in uterus didelphys: a report of three cases. Medicina (Kaunas). 2020 Apr; 56(4):198. doi: 10.3390/medicina56040198
Liu X, Xue L, Wang Y, Wang W, Tang JJIJoH. Vaginal delivery outcomes of pregnancies following ultrasound-guided high-intensity focused ultrasound ablation treatment for uterine fibroids. International Journal of Hyperthermia. 2018; 35(1):510-517. doi: 10.1080/02656736.2018.1510548.
Poudel R, Stanley JL, Rueda-Clausen CF, Andersson IJ, Sibley CP, Davidge ST, et al. Effects of resveratrol in pregnancy using murine models with reduced blood supply to the uterus. PLoS One. 2013 May; 8(5):e64401. doi: 10.1371/journal.pone.0064401.
Maleux G, Timmerman D, Heye S, Wilms GJEr. Acquired uterine vascular malformations: radiological and clinical outcome after transcatheter embolotherapy. European Radiology 2006 Feb; 16(2):299-306. doi: 10.1007/s00330-005-2799-5.
Paliulyte V, Drasutiene G, Ramasauskaite D, Bartkeviciene D, Zakareviciene J, Kurmanavicius JJO, et al. Physiological Uterine Involution in Primiparous and Multiparous Women: Ultrasound Study. International journal of Obstetrics and Gynecology 2017; 2017:6739345. doi: 10.1155/2017/6739345.
Ahmed SO. Evaluation of Parity Relation with Uterus Size using ultrasonography (Doctoral dissertation, Sudan University of Science & Technology). 2017.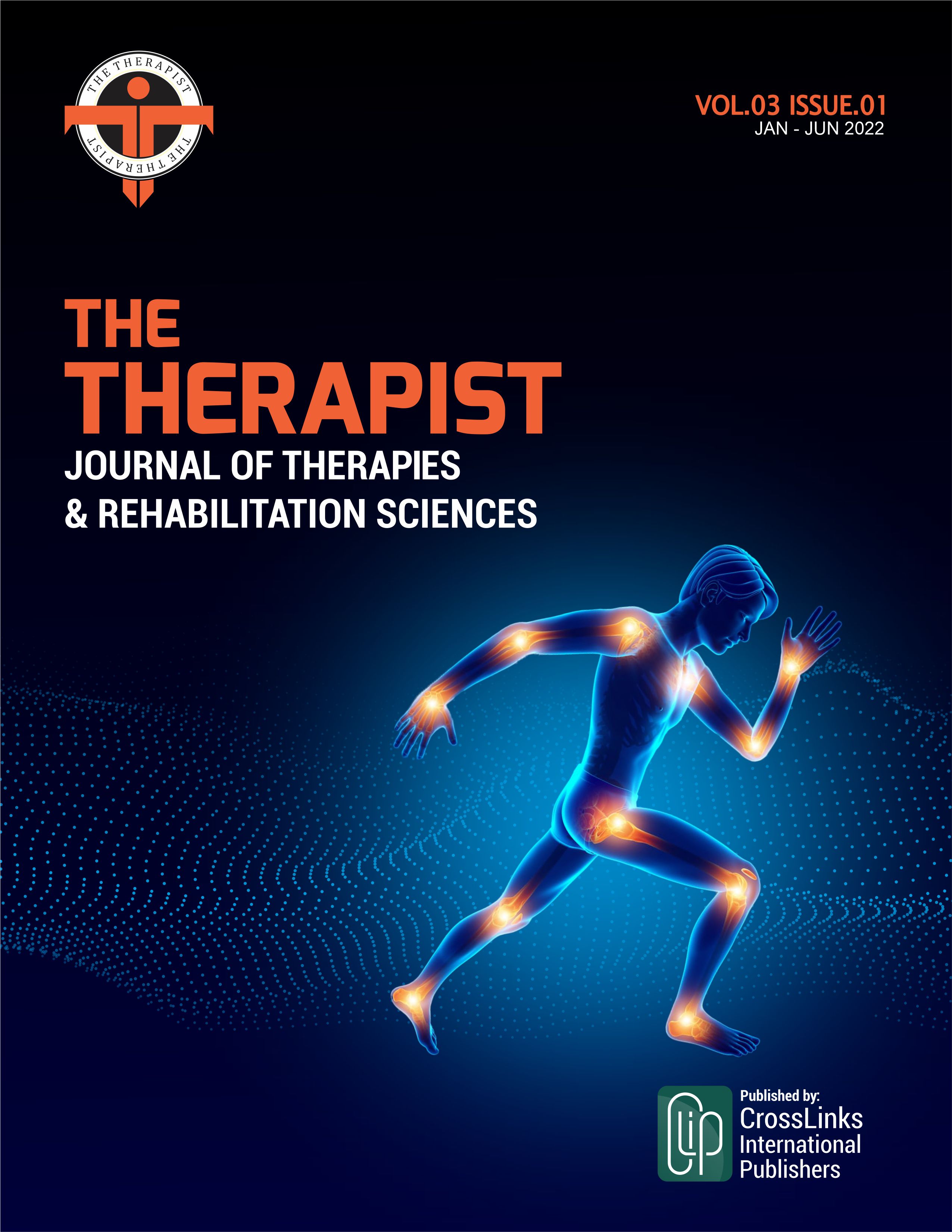 Downloads
How to Cite
Fatima, N. ., John, A. ., Ali, A., Amir, A. ., & Mubbarka, M. . (2022). Measurement of Uterus Sizes Of Multiparous Women using Ultrasound: Uterus Sizes Of Multiparous Women using Ultrasound. THE THERAPIST (Journal of Therapies &Amp; Rehabilitation Sciences), 3(1), 07–10. https://doi.org/10.54393/tt.v3i1.33
License
Copyright (c) 2022 THE THERAPIST (Journal of Therapies & Rehabilitation Sciences)
This work is licensed under a Creative Commons Attribution 4.0 International License.
This is an open-access journal and all the published articles / items are distributed under the terms of the Creative Commons Attribution License, which permits unrestricted use, distribution, and reproduction in any medium, provided the original author and source are credited. For comments editor@thetherapist.com.pk