Comparison of Effectiveness of Muscle energy Technique with Strain Counter Strain Technique on the Patients of Non-Specific Neck Pain
Effectiveness of Muscle Energy Technique with Strain Counter Strain Process
Keywords:
Muscle energy technique, Nonspecific Neck Pain, Strain Counter Strain
Abstract
Non-specific neck pain is a condition which is diagnosed through symptoms when serious and objective cervical spinal pathology (e.g., trauma, malignancy, radiculopathy, etc.) has been ruled out. Many studies have done previously for both techniques, muscle energy technique and strain-counter strain technique, for treatment of patients with non-specific neck pain Objective: To compare the effectiveness of Muscle Energy Technique with Strain Counter- Strain Technique in patients with non-specific neck pain Methods: Single blinded randomized clinical trial was conducted. The assessor was blinded from the allocation in the groups. Forty Patients were included in the study divided into two groups; each group received one technique. They were followed for Seven sessions. Questionnaire including visual analogue scale, NDI were used to collect pre-treatment and post- treatment data. Data was analyzed by using SPSS ver. 21. Independent sample t test was applied to compare means of patients Results: Neck flexion of the Patients pretreatment Mean Group 1:24.6500, Group2:23.0500. Neck Flexion of the patient after treatment Mean Group 1(SCS) 32.0500 Group 2(MET) 40.0000 Neck Extension of the Patient pretreatment Mean Group 1: 33.8500 Group 2:  30.6500. Neck extension of the patients. Post treatment Mean SCS 41.5000 MET53. 2500.The given results and detailed results given in the table shows that both techniques are improving ROM, but MET are more effective than SCS. p value is 0.001 which is significant Conclusion: This study concluded that Muscle Energy Technique is better in reducing pain as compared to Strain Counter Strain Technique
References
van der Velde G. Mechanical neck pain. Evidence‐Based Orthopedics. 2011:661-8. doi.org/10.1002/9781119413936.ch109.
Gross A KT, Hondras M, Goldsmith C, Haines T, Peloso P, et al. Manual therapy for mechanical neck disorders: a systematic review. Manual Therapy. 2002;7(3):131-49. doi: 10.1054/math.2002.0465.
Bogduk N. The anatomical basis for spinal pain syndromes. J Manipulative Physiol Ther. 1995 Nov-Dec;18(9):603-5.
Bevan S. Economic impact of musculoskeletal disorders (MSDs) on work in Europe. Best Pract Res Clin Rheumatol. 2015 Jun;29(3):356-73. doi: 10.1016/j.berh.2015.08.002.
Chan C, Ackermann B. Evidence-informed physical therapy management of performance-related musculoskeletal disorders in musicians. Frontiers in psychology. 2014;5:706. doi: 10.3389/fpsyg.2014.00706.
Silver JK, Baima J, Mayer RS. Impairment‐driven cancer rehabilitation: an essential component of quality care and survivorship. CA: a cancer journal for clinicians. 2013;63(5):295-317. doi: 10.3322/caac.21186.
Farid S, Ahmad R, Niaz IA, Arif M, Shamshirband S, Khattak MD. Identification and prioritization of critical issues for the promotion of e-learning in Pakistan. Computers in Human Behavior. 2015;51:161-71. doi.org/10.1016/j.chb.2015.04.037
Zafarullah S, Mumtaz K, Murad PU, Abida S, Humera S. Teachers' time management and the performance of students: A comparison of government and private schools of Hyderabad, Sindh, Pakistan.World Journal of Education, 2016,6 (6). . doi.org/10.5430/wje.v6n6p42
Javaid HMW, Ahmad A, Ajmad F, Liaqat S & Tahir S. Effects of Conventional Physical Therapy with or without Strain Counterstrain in Patients with Trigger Points of Upper Trapezius; a Randomized Controlled Clinical Trial. Annals of King Edward Medical University, 2016, 22(3). doi.org/10.21649/akemu.v22i3.1400
Bron C, Dommerholt JD. Etiology of myofascial trigger points. Current pain and headache reports. 2012;16(5):439-44. doi: 10.1007/s11916-012-0289-4.
Shah JP, Thaker N, Heimur J, Aredo JV, Sikdar S, Gerber L. Myofascial trigger points then and now: a historical and scientific perspective. PM&R. 2015;7(7):746-61. doi: 10.1016/j.pmrj.2015.01.024.
Lavelle ED, Lavelle W, Smith HS. Myofascial trigger points. Anesthesiol Clin. 2007 Dec;25(4):841-51, vii-iii. doi: 10.1016/j.anclin.2007.07.003.
Kojidi MM, Okhovatian F, Rahimi A, Baghban AA, Azimi H. Comparison between the effects of passive and active soft tissue therapies on latent trigger points of upper trapezius muscle in women: single-blind, randomized clinical trial. Journal of chiropractic medicine. 2016;15(4):235-42. doi: 10.1016/j.jcm.2016.08.010.
Bookwala T, Dabholkar TY, Pandit U, Thakur A, Karajgi A, Yardi S. Comparison of efficacy of Active Release Technique with Ultrasound and Strain-Counterstrain Technique with Ultrasound on Upper Trapezius Trigger Points. Indian Journal of Public Health Research & Development. 2015;6(3).doi: 10.5958/0976-5506.2015.00178.3
Miyakoshi K, Umehara J, Komamura T, Ueda Y, Tamezawa T, Kitamura G, et al. Effect of different trunk postures on scapular muscle activities and kinematics during shoulder external rotation. Journal of shoulder and elbow surgery. 2019;28(12):2438-46. doi: 10.1016/j.jse.2019.04.059.
Greenberg J. Muscle energy technique versus dry needling of quadratus lumborum in the treatment of myofascial trigger points: University of Johannesburg (South Africa); 2014. http://hdl.handle.net/10210/9968
Żurowska A, Malak R, Kołcz-Trzęsicka A, Samborski W, Paprocka-Borowicz M. Compression of the fourth ventricle using a Craniosacral osteopathic technique: a systematic review of the clinical evidence. Evidence-Based Complementary and Alternative Medicine. 2017;2017. doi: 10.1155/2017/2974962.
Burns DK, Wells MR. Gross range of motion in the cervical spine: the effects of osteopathic muscle energy technique in asymptomatic subjects. The Journal of the American Osteopathic Association. 2006;106(3):137-42.
Patel VD, Eapen C, Ceepee Z, Kamath R. Effect of muscle energy technique with and without strain–counterstrain technique in acute low back pain—A randomized clinical trial. Hong Kong Physiotherapy Journal. 2018;38(01):41-51. doi: 10.1142/S1013702518500051.
Sbardella S, La Russa C, Bernetti A, Mangone M, Guarnera A, Pezzi L, et al., editors. Muscle energy technique in the rehabilitative treatment for acute and chronic non-specific neck pain: a systematic review. Healthcare. 2021 Jun 17;9(6):746. doi: 10.3390/healthcare9060746.
Ellythy MA. Efficacy of muscle energy technique versus strain counter strain on low back dysfunction. Bull Fac Phys Ther. 2012;17(2):29-35.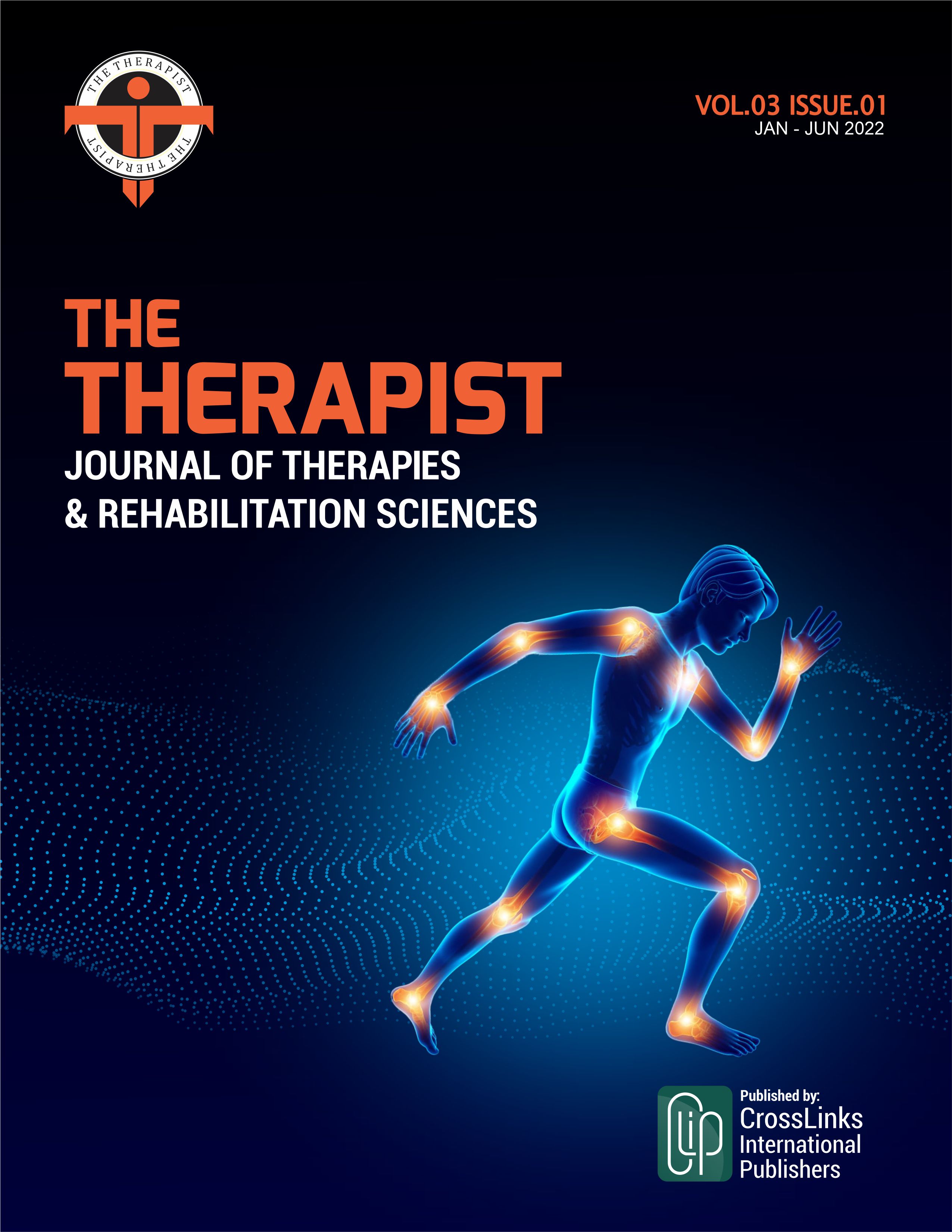 Downloads
How to Cite
Ameer , T. ., Ghaffar, N. ., Ahmed Zahoor, I. ., Ali Rana, A. ., Ahmad , I. ., & Azam, H. . (2022). Comparison of Effectiveness of Muscle energy Technique with Strain Counter Strain Technique on the Patients of Non-Specific Neck Pain: Effectiveness of Muscle Energy Technique with Strain Counter Strain Process. THE THERAPIST (Journal of Therapies &Amp; Rehabilitation Sciences), 3(1), 19–23. https://doi.org/10.54393/tt.v3i1.36
License
Copyright (c) 2022 THE THERAPIST (Journal of Therapies & Rehabilitation Sciences)
This work is licensed under a Creative Commons Attribution 4.0 International License.
This is an open-access journal and all the published articles / items are distributed under the terms of the Creative Commons Attribution License, which permits unrestricted use, distribution, and reproduction in any medium, provided the original author and source are credited. For comments editor@thetherapist.com.pk