Spiritual Perspectives and Well-Being among Stroke Patients in Rehabilitation Centres of Four Tertiary Care Hospitals of Pakistan
Wellbeing of Stroke Patients in Rehabilitation Centres
Keywords:
Wellbeing of Stroke Patients in Rehabilitation Centres
Abstract
Spiritual wellness acknowledges our search for deeper meaning in life. Spirituality can make it easier to cope with the physical and cognitive consequences of a stroke, as well as with any other illness. Objective: To identify spiritual well-being and perspective of stroke patients and its association. Methods: A total of 420 stroke patients with Epi info sample size calculator were selected from the rehabilitation centres of the tertiary care hospitals of Peshawar, Abbottabad and Swat. Responses recorded through demographic section as well as reliable and validated Likert type quantitative tools in an analytical cross-sectional study. Results: Of the 420 participants, 164 (39%) were female. The Spiritual Index of Well-being Scale (SIWB) had a mean score of 40.83 out of a possible 60 and the Spiritual Perspective Scale (SPS) had a mean score of 49.06 out of a possible 60. Spiritual perspectives and well-being were reported to be statistically significant (p < 0.05) with each other and with several of the demographic indices on ANOVA and post hoc tests (Games-Howell). The Pearson association between spiritual perspectives and wellbeing (r) was likewise shown to be positively highly statistically significant (r = 0.530, p < 0.000). Conclusions: The findings of the research complement and justify Reed's theory's theoretical assertions. Spiritual Perspectives and practises serve as a buffer and contribute to the growth of Spiritual Well-being. The inclusion of spiritual health as a component of holistic health during medical interventions has implications.
References
Crocker TF, Brown L, Lam N, Wray F, Knapp P, Forster A. Information provision for stroke survivors and their carers. Cochrane Database of Systematic Reviews. 2021 Nov; 11: CD001919. doi: 10.1002/14651858.CD001919.pub4.
Varghese C, Onuma O, Johnson W, Brainin M, Hacke W, Norrving B. Organizational Update: World Health Organization. Stroke. 2017 Dec; 48(12): e341-2. doi: 10.1161/STROKEAHA.117.016941.
Stroke Association. Stroke statistics. 2020. [Last cited: 15th Jan 2022]. Available from: https://www.stroke.org.uk/what-is-stroke/stroke-statistics.
Jafar TH. Blood pressure, diabetes, and increased dietary salt associated with stroke–results from a community-based study in Pakistan. Journal of Human Hypertension. 2006 Jan; 20(1): 83-5. doi: 10.1038/sj.jhh.1001929.
Kamal AK, Itrat A, Murtaza M, Khan M, Rasheed A, Ali A, et al. The burden of stroke and transient ischemic attack in Pakistan: a community-based prevalence study. BMC Neurology. 2009 Dec; 9(1): 1-1. doi: 10.1186/1471-2377-9-58.
Gupta R, Islam S, Mony P, Kutty VR, Mohan V, Kumar R, et al. Socioeconomic factors and use of secondary preventive therapies for cardiovascular diseases in South Asia: the PURE study. European Journal of Preventive Cardiology. 2015 Oct; 22(10): 1261-71. doi: 10.1177/2047487314540386.
Chowdhury MZ, Haque MA, Farhana Z, Anik AM, Chowdhury AH, Haque SM, et al. Prevalence of cardiovascular disease among Bangladeshi adult population: a systematic review and meta-analysis of the studies. Vascular Health and Risk Management. 2018 Aug; 14: 165-81. doi: 10.2147/VHRM.S166111.
Chang T, Gajasinghe S, Arambepola C. Prevalence of stroke and its risk factors in urban Sri Lanka: population-based study. Stroke. 2015 Oct; 46(10): 2965-8. doi: 10.1161/STROKEAHA.115.010203.
Sherin A, Ul-Haq Z, Fazid S, Shah BH, Khattak MI, Nabi F. Prevalence of stroke in Pakistan: findings from Khyber Pakhtunkhwa integrated population health survey (KP-IPHS) 2016-17. Pakistan Journal of Medical Sciences. 2020 Nov; 36(7): 1435. doi: 10.12669/pjms.36.7.2824.
Stroke Association. State of the nation: stroke statistics. 2018. [Last cited: 1st Nov 2022]. Available at: https://www.stroke.org.uk/what-is-stroke/stroke-statistics.
Pell J. The Aftermath of Stroke. The experience of patients and their families. Journal of Epidemiology and Community Health. 1993 Apr; 47(2): 163. doi: 10.1136/jech.47.2.163-b.
Wright F, Wu S, Chun HY, Mead G. Factors Associated with Poststroke Anxiety: A Systematic Review and Meta-Analysis. Stroke Research and Treatment. 2017; 2017: 2124743. doi: 10.1155/2017/2124743.
Dąbrowska-Bender M, Milewska M, Gołąbek A, Duda-Zalewska A, Staniszewska A. The Impact of Ischemic Cerebral Stroke on the Quality of Life of Patients Based on Clinical, Social, and Psychoemotional Factors. Journal of Stroke and Cerebrovascular Disease. 2017 Jan; 26(1): 101-7. doi: 10.1016/j.jstrokecerebrovasdis.2016.08.036.
Reed PG. Demystifying self-transcendence for mental health nursing practice and research. Archives of Psychiatric Nursing. 2009 Oct; 23(5): 397-400. doi: 10.1016/j.apnu.2009.06.006.
Adib-Hajbaghery M and Faraji M. Comparison of Happiness and Spiritual Well-Being among the Community Dwelling Elderly and those who Lived in Sanitariums. International Journal of Community Based Nursing and Midwifery. 2015 Jul; 3(3): 216-26.
Fisher J. The Four Domains Model: Connecting Spirituality, Health and Well-Being. Religions. 2011 Jan; 2(1): 17-28. doi: 10.3390/rel2010017.
Lamb M, Buchanan D, Godfrey CM, Harrison MB, Oakley P. The psychosocial spiritual experience of elderly individuals recovering from stroke: a systematic review. International Journal of Evidence‐Based Healthcare. 2008 Jun; 6(2): 173-205. doi: 10.1097/01258363-200806000-00003.
Karimollahi M, Rostamnejad M, Abedi HA. Spiritual needs of Iranian cancer patients. European Psychiatry. 2009 Jan; 24(S1): 1. doi: 10.1016/S0924-9338(09)71164-2.
Abu-Raiya H, Pargament KI. Empirically based psychology of Islam: Summary and critique of the literature. Mental Health, Religion & Culture. 2011 Feb; 14(2): 93-115. doi: 10.1080/13674670903426482.
Reed PG. Spirituality and well‐being in terminally ill hospitalized adults. Research in Nursing & Health. 1987 Oct; 10(5): 335-44. doi: 10.1002/nur.4770100507.
Daaleman TP and Frey BB. The spirituality index of well-being: A new instrument for health-related quality-of-life research. The Annals of Family Medicine. 2004 Sep; 2(5): 499-503. doi: 10.1370/afm.89.
Jesse DE and Reed PG. Effects of spirituality and psychosocial well‐being on health risk behaviors in Appalachian pregnant women. Journal of Obstetric, Gynecologic, & Neonatal Nursing. 2004 Nov; 33(6): 739-47. doi: 10.1177/0884217504270669.
Runquist JJ and Reed PG. Self-transcendence and well-being in homeless adults. Journal of Holistic Nursing. 2007 Mar; 25(1): 5-13. doi: 10.1177/0898010106289856.
Levenson MR, Jennings PA, Aldwin CM, Shiraishi RW. Self-transcendence: Conceptualization and measurement. The International Journal of Aging and Human Development. 2005 Mar; 60(2): 127-43. doi: 10.2190/XRXM-FYRA-7U0X-GRC0.
Dunkin JW and Dunn LL. Spiritual perspectives and health: A random survey in a southern state. Online Journal of Rural Nursing and Health Care. 2009 Feb; 9(2): 23-32. doi: 10.14574/ojrnhc.v9i2.83.
Coward DD. Self-transcendence and correlates in a healthy population. Nursing Research. 1996 Mar; 45(2): 116-21. doi: 10.1097/00006199-199603000-00011.
McCarthy VL, Hall LA, Crawford TN, Connelly J. Facilitating self-transcendence: an intervention to enhance well-being in late life. Western Journal of Nursing Research. 2018 Jun; 40(6): 854-73. doi: 10.1177/0193945917690731.
Soriano GP and Calong KA. Spiritual well-being, self-transcendence, and spiritual practices among Filipino women with breast cancer. Palliative & Supportive Care. 2021 Dec; 19(6): 723-6. doi: 10.1017/S1478951521000079.
Milani MJ, Amiri P, Vejdani M, Salehiniya H, Malek-Khahi A. The effect of peer support group on self-transcendence in patients undergoing haemodialysis. Biomedical Research and Therapy. 2017 Mar; 4(03): 1198-209. doi: 10.15419/bmrat.v4i03.157.
Rafati F, Mashayekhi F, Dastyar N. Caregiver burden and spiritual well-being in caregivers of hemodialysis patients. Journal of Religion and Health. 2020 Dec; 59(6): 3084-96. doi: 10.1007/s10943-019-00939-y.
López AJ, McCaffrey R, Quinn Griffin MT, Fitzpatrick JJ. Spiritual well-being and practices among women with gynecologic cancer. Oncology Nursing Forum 2009 May; 36(3): 300-5. doi: 10.1188/09.ONF.300-305.
Fiske EA. Self-transcendence, well-being, and vulnerability in healthcare mission participants. Nursing Science Quarterly. 2019 Oct; 32(4): 306-13. doi: 10.1177/0894318419864326.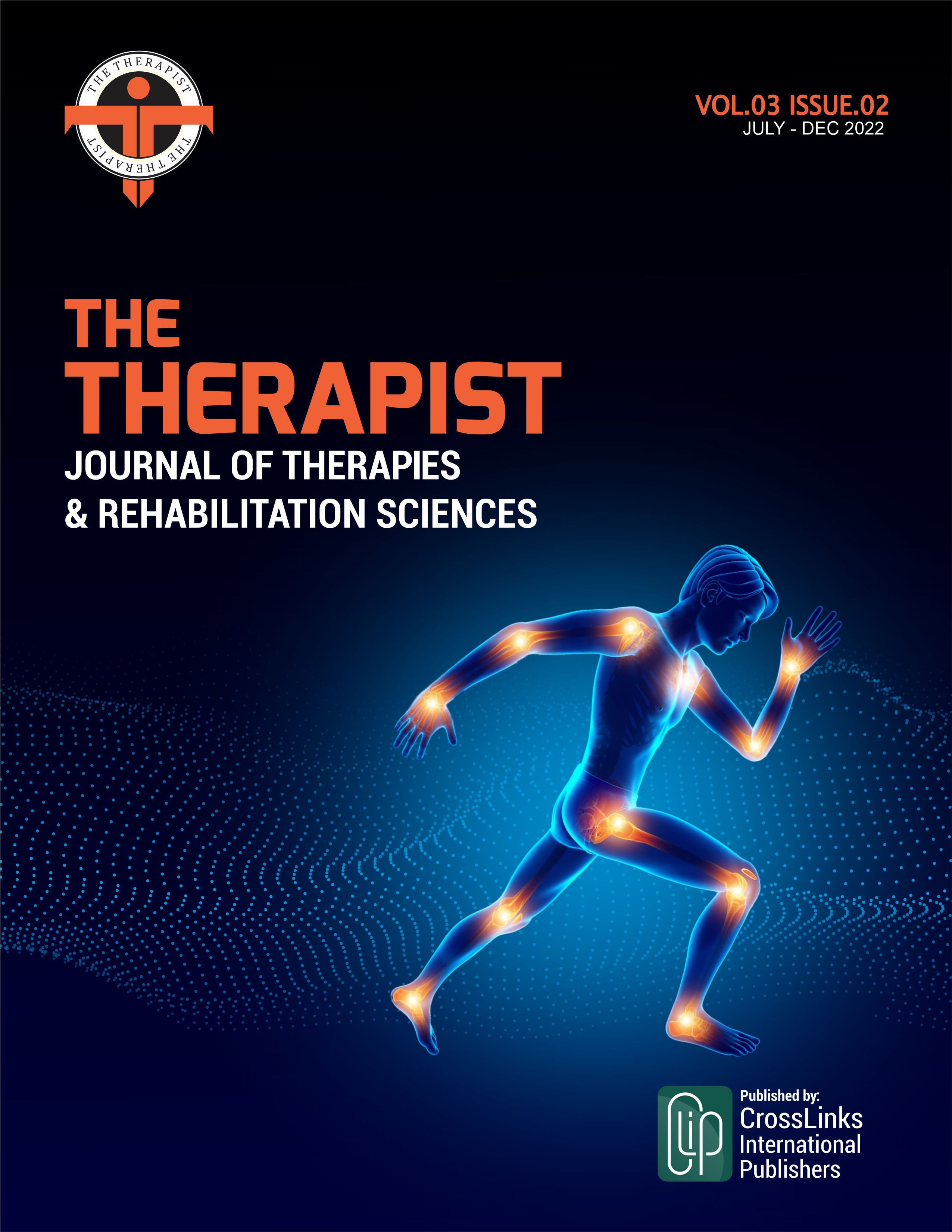 Downloads
How to Cite
Suliman, M. ., Sohail, M. ., Yaseen, M. ., Sultan, A. ., ., A., & G. Reed, P. . (2022). Spiritual Perspectives and Well-Being among Stroke Patients in Rehabilitation Centres of Four Tertiary Care Hospitals of Pakistan: Wellbeing of Stroke Patients in Rehabilitation Centres. THE THERAPIST (Journal of Therapies &Amp; Rehabilitation Sciences), 3(02), 31–35. https://doi.org/10.54393/tt.v3i02.58
License
Copyright (c) 2023 THE THERAPIST (Journal of Therapies & Rehabilitation Sciences)
This work is licensed under a Creative Commons Attribution 4.0 International License.
This is an open-access journal and all the published articles / items are distributed under the terms of the Creative Commons Attribution License, which permits unrestricted use, distribution, and reproduction in any medium, provided the original author and source are credited. For comments editor@thetherapist.com.pk