Burnout Syndrome Among Physiotherapists
Burnout Syndrome Among Physiotherapists
Keywords:
Burnout, Physiotherapists, physical exhaution, mental exhaustation
Abstract
Burnout is formally defined as a state of physical, emotional and mental exhaustion as a result of long term stress Objective: The purpose of the study was to find out level of burnout among physiotherapists and to assess the different factors of burnout Methods: The study was a cross sectional survey, a sample of 245 participants was selected by using non-probability convenient sampling technique. An inclusion and exclusion criteria was set up and data was collected by using Maslach Burnout Inventory Scale and SPSS version 20 was used to analyze the data Results: Results of the study showed that mean+SD score for emotional exhaustion was 16.55+ 5.07, mean+SD score for personal accomplishment was 44.73+1.54 and mean+SD score for depersonalization was 0.75+0.93 Conclusion: It was concluded that the level of burnout among physiotherapists ranged from low to moderate.
References
Scutter S, Goold M. Burnout in recently qualified physiotherapists in South Australia. The Australian journal of physiotherapy 1995; 41(2): 115-8.
https://doi.org/10.1016/S0004-9514(14)60425-6
Ogiwara S, Hayashi H. Burnout amongst physiotherapists in Ishikawa Prefecture. Journal of physical therapy science 2002; 14(1): 7-13.
https://doi.org/10.1589/jpts.14.7
Śliwiński Z, Starczyńska M, Kotela I, et al. Life satisfaction and risk of burnout among men and women working as physiotherapists. International journal of occupational medicine and environmental health 2014; 27(3): 400-12.
https://doi.org/10.2478/s13382-014-0266-8
Dean RP. Exploring Symptoms of PTSD and Therapeutic Benefits of Artmaking for Combat Veteran Artists: Long Island University, CW Post Center; 2019.
Al-Imam DM, Al-Sobayel HI. The prevalence and severity of burnout among physiotherapists in an Arabian setting and the influence of organizational factors: An observational study. Journal of Physical Therapy Science. 2014;26(8):1193-8.
https://doi.org/10.1589/jpts.26.1193
Pustułka-Piwnik U, Ryn ZJ, Krzywoszański Ł, Stożek J. Burnout syndrome in physical therapists-demographic and organizational factors. Medycyna pracy. 2014;65(4):453-62.
https://doi.org/10.13075/mp.5893.00038
Ibikunle P, Umeadi O, Ummunah J. Predictors of burnout syndrome among Nigerian physiotherapists. African Journal of Physiotherapy and Rehabilitation Sciences. 2012;4(1-2):1-7.
https://doi.org/10.4314/ajprs.v4i1-2.1
Pejuskovic B, Lecic-Tosevski D, Priebe S, Toskovic O. Burnout syndrome among physicians - the role of personality dimensions and coping strategies. Psychiatr Danub. 2011;23(4):389-95.
Pavlakis A, Raftopoulos V, Theodorou M. Burnout syndrome in Cypriot physiotherapists: a national survey. BMC Health Services Research. 2010;10(1):63.
https://doi.org/10.1186/1472-6963-10-63
Serrano GM, de Los Fayos E, Hidalgo MM. Burnout in Spanish physiotherapists. Psicothema. 2008;20(3):361-8.
Sample size to estimate a proportion with specified precision. EpiTools epidemiological calculators; [cited 2017 26th february]; Available from: http://epitools.ausvet.com.au/content.php?page=1Proportion&Proportion=0.3&Conf=0.95&Precision=0.05&Population=1000.
Jodas DA, Haddad MdCL. Burnout Syndrome among nursing staff from an emergency department of a hniversity hospital. Acta Paulista de Enfermagem. 2009;22(2):192-7.
https://doi.org/10.1590/S0103-21002009000200012
Owczarek K, Wojtowicz S, Pawłowski W, Białoszewski D. Burnout syndrome among physiotherapists. Wiadomosci lekarskie (Warsaw, Poland: 1960). 2017;70(3 pt 2):537.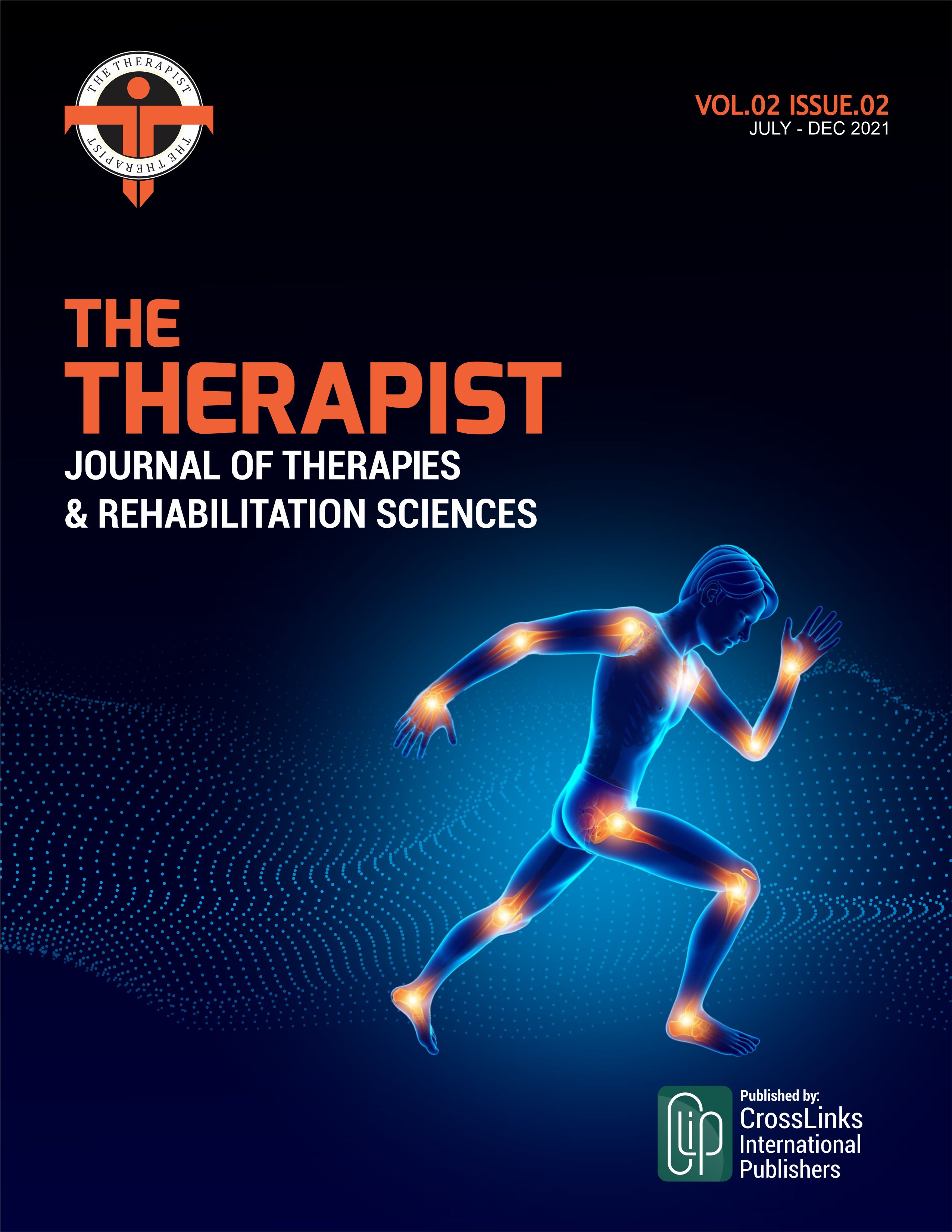 Downloads
How to Cite
Bashir, M., Bukhari, B. ., Nasir, M., Rasool, A., Arshad, M., & Hameed, A. (2021). Burnout Syndrome Among Physiotherapists: Burnout Syndrome Among Physiotherapists. THE THERAPIST (Journal of Therapies &Amp; Rehabilitation Sciences), 2(2), 03–07. https://doi.org/10.54393/tt.v2i2.8
License
Copyright (c) 2021 THE THERAPIST (Journal of Therapies & Rehabilitation Sciences)
This work is licensed under a Creative Commons Attribution 4.0 International License.
This is an open-access journal and all the published articles / items are distributed under the terms of the Creative Commons Attribution License, which permits unrestricted use, distribution, and reproduction in any medium, provided the original author and source are credited. For comments editor@thetherapist.com.pk