Frequency of Musculoskeletal Pain Among Biomedical Science Students Working in Laboratory
Musculoskeletal Pain Among Laboratory Students
Keywords:
Musculoskeletal pain, biomedical science students, Laboratory activities
Abstract
Objective: To find out the frequency of musculoskeletal pain and to identify risk factors among biomedical science students working in laboratory Methods: This cross-sectional study used Nordic musculoskeletal questionnaire among biomedical science students and was conducted in the university of Central Punjab and University of Lahore, Pakistan. Study sample comprised of 103 participants. Data was collected by using non-probability convenient sampling technique and was analyzed through SPPS v 21.0 Results: Out of 103 students  reported a laboratory related musculoskeletal pain in the last 12 months while 16 (15.5%) within 7 days. The lower back (21.4% and 16.5%), neck (13.6% and 9.7%) and shoulders (10.7% and 6.8%) were the most common sites of problems reported within a 12 month and 7 day period respectively. Moreover, feeling of pain or discomfort in lower back, neck and shoulders prevented 18 subjects (17.4%) from performing daily activities while the 10 (9.8%) students required physical assistance during past last year. There was a statistically significant association between WMSP and gender, laboratory activity, and students work position Conclusion: It is concluded that significant number of university biomedical science students experienced musculoskeletal pain during their laboratory training activities which was found to be highly prevalent in upper extremities than lower extremities. Students reported work related musculoskeletal pain during the last 12 months respectively which has affected their daily activities. Few of them also seek medical advice by the health professionals. Students need education and awareness for better seating and safer work postures that may reduce the prevalence of musculoskeletal pain.
References
Neupane S. Multi-site musculoskeletal pain among industrial workers: occurrence, determinants and consequences for work ability and sickness absence. 2013.
Sadeghian F, Kasaeian A, Noroozi P, Vatani J, Hassan Taiebi S. Psychosocial and individual characteristics and musculoskeletal complaints among clinical laboratory workers. International Journal of Occupational Safety and Ergonomics. 2014;20(2):355-61.
https://doi.org/10.1080/10803548.2014.11077049
Genc A, Kahraman T, Göz E. The prevalence differences of musculoskeletal problems and related physical workload among hospital staff. Journal of back and musculoskeletal rehabilitation. 2016;29(3):541-7.
https://doi.org/10.3233/BMR-160655
Alghadir A, Anwer S. Prevalence of musculoskeletal pain in construction workers in Saudi Arabia. The Scientific World Journal. 2015;2015.
https://doi.org/10.1155/2015/529873
Dianat I, Kord M, Yahyazade P, Karimi MA, Stedmon AW. Association of individual and work-related risk factors with musculoskeletal symptoms among Iranian sewing machine operators. Applied ergonomics. 2015;51:180-8.
https://doi.org/10.1016/j.apergo.2015.04.017
Burdorf A, Sorock G. Positive and negative evidence of risk factors for back disorders. Scandinavian journal of work, environment & health. 1997:243-56.
https://doi.org/10.5271/sjweh.217
Berberoğlu U, Tokuç B. Work-related musculoskeletal disorders at two textile factories in Edirne, Turkey. Balkan medical journal. 2013;2013(1):23-7.
https://doi.org/10.5152/balkanmedj.2012.069
Agrawal PR, Maiya AG, Kamath V, Kamath A. Work related musculoskeletal disorders among medical laboratory professionals: a narrative review. Int J Res Med Sci. 2014;2(4):1262-6.
https://doi.org/10.5455/2320-6012.ijrms20141105
Sirajudeen MS, Alaidarous M, Waly M, Alqahtani M. Work-related musculoskeletal disorders among faculty members of college of Applied Medical Sciences, Majmaah University, Saudi Arabia: A cross-sectional study. International journal of health sciences. 2018;12(4):18.
Holm JW, Mortensen OS, Gyntelberg F. Upper limb disorders among biomedical laboratory workers using pipettes. Cogent Medicine. 2016;3(1):1256849.
https://doi.org/10.1080/2331205X.2016.1256849
Penkala S, El-Debal H, Coxon K. Work-related musculoskeletal problems related to laboratory training in university medical science students: a cross sectional survey. BMC public health. 2018;18(1):1208.
https://doi.org/10.1186/s12889-018-6125-y
Mukhtad AA, Aminese HA, Mansor MA, Salam H, Mansour HAE. Ergonomic Risk Assessment among Healthcare Laboratory Technicians in Benghazi Medical Centre. 2018.
Hasan MM, Yaqoob U, Ali SS, Siddiqui AA. Frequency of Musculoskeletal Pain and Associated Factors among Undergraduate Students. Medicine. 2018;7:131-45.
https://doi.org/10.4236/crcm.2018.72011
Abledu JK, Offei EB. Musculoskeletal disorders among first-year Ghanaian students in a nursing college. African health sciences. 2015;15(2):444-9.
https://doi.org/10.4314/ahs.v15i2.18
George E. Occupational hazard for pathologists: microscope use and musculoskeletal disorders. American journal of clinical pathology. 2010;133(4):543-8.
https://doi.org/10.1309/AJCPUXDS5KJKRFVW
Rahimi A, Vahdatpour B, Khosrawi S, Mogtaderi A, Sattari S, Dabiri F. Work related musculoskeletal disorders among pathologist in Isfahan: a cross-sectional study. Res J Biol Sci. 2010;5(12):793-7.
https://doi.org/10.3923/rjbsci.2010.664.669
Park J-K, Buchholz B. Effects of work surface height on muscle activity and posture of the upper extremity during simulated pipetting. Ergonomics. 2013;56(7):1147-58.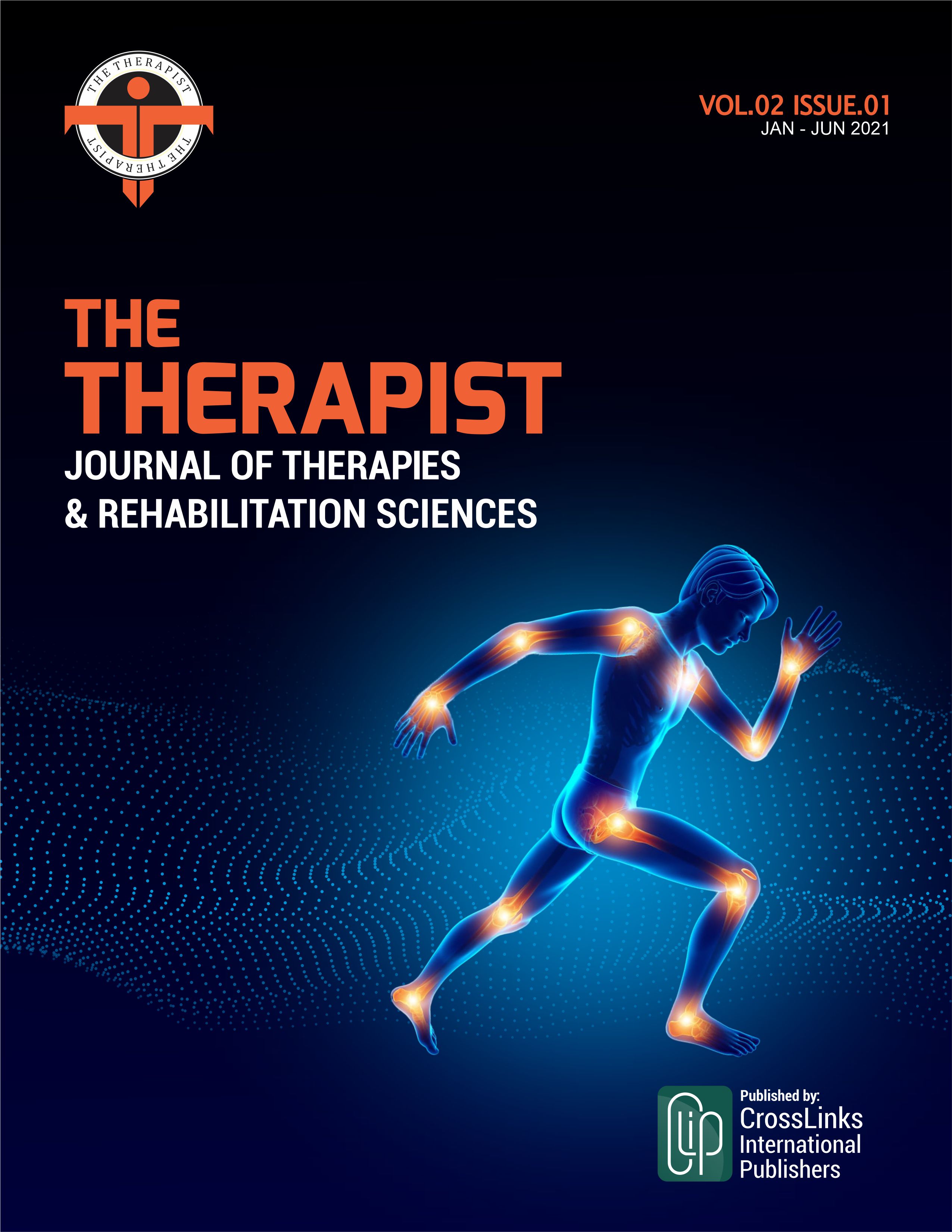 Downloads
How to Cite
Anwar, S., Batool, S., & Arif, S. (2021). Frequency of Musculoskeletal Pain Among Biomedical Science Students Working in Laboratory : Musculoskeletal Pain Among Laboratory Students. THE THERAPIST (Journal of Therapies &Amp; Rehabilitation Sciences), 2(1), 11–17. https://doi.org/10.54393/tt.v2i1.11
License
Copyright (c) 2021 THE THERAPIST (Journal of Therapies & Rehabilitation Sciences)
This work is licensed under a Creative Commons Attribution 4.0 International License.
This is an open-access journal and all the published articles / items are distributed under the terms of the Creative Commons Attribution License, which permits unrestricted use, distribution, and reproduction in any medium, provided the original author and source are credited. For comments editor@thetherapist.com.pk