Assessment of Postural Changes Among School-Going Children Due to Heavy Backpacks in Lahore
Keywords:
Posture, School Bags, Heavy bags, Load, Heavy backpacks, Musculoskeletal
Abstract
Posture is a matter a big concern. Because of increased workload the weight of school bags is also increasing day by day. The weight of bags with heavy books can develop many spinal deformities in young children. Objective: To assess the postural changes happening in school going kids because of heavy backpacks. Method: It is a cross sectional study and was conducted on different schools in Lahore, within the time period of three months from 1st November 2019 to 1st February 2020. The sample size was 145 and the survey followed convenient sampling technique. Children per inclusion criteria were selected from different government schools to collect data and informed consent was taken before data collection. REEDCO scale was used to examine the postural disturbance. Results: Results showed head posture as 3.4% poor & 13.1% fair, neck posture as 6.2% poor & 16.6% fair, shoulder posture as 5.5% poor & 15.2% fair, upper back posture as 3.4% poor & 38.6% fair, trunk posture as 10.3% poor & 46.2% fair, abdominal posture as 5.5% poor & 14.5% fair, hip posture as 0.7% poor & 5.5% fair and the ankle posture as 1.4% poor & 26.9% fair. Conclusion: This study concluded a significantly frequent postural problems in trunk region because of carrying heavy loaded school backpacks which is neither good in present time nor in future, as with the passage of time, postural changes become irreversible. Along with that, hip region prominently perceived least postural changes according to current study.
References
Dharmayat S, Shrestha S. Assessment of posture and musculoskeletal pain in school going girls using backpacks. IOSR J Nurs Health Sci. 2017,6(1):9-12.doi.org/10.9790/1959-0601050912
Kistner F, Fiebert I, Roach K. Effect of backpack load carriage on cervical posture in primary schoolchildren. Work. 2012,41(1):99-108. doi.org/10.3233/WOR-2012-1289
Hussain M, Tahir A, Zafar Q, Mukhtar I, Yousaf M. A Study to Know Association of Backpack Weight and Backache in School Going Girls of Lahore, Punjab, Pakistan. 2014.
Rai A, Agarwal S, Bharti S, Ambedakar BBR. Postural effect of back packs on school children: its consequences on their body posture. Int J Health Sci Res. 2013,3(10):109-16.
Nasiri Kalmarzi R, Shekari A, Tajik M, Ataee P, Homagostar G, et al. The prevalence of asthma symptoms in elementary and middle school students in Kurdistan Province, the West of Iran. International Journal of Pediatrics. 2016,4(2):1323-30.
Maciałczyk-Paprocka K, Stawińska-Witoszyńska B, Kotwicki T, Sowińska A, Krzyżaniak A,et al. Prevalence of incorrect body posture in children and adolescents with overweight and obesity. European journal of pediatrics. 2017,176(5):563-72. doi.org/10.1007/s00431-017-2873-4
Zakeri Y, Baraz S, Gheibizadeh M, Saidkhani V. Relationship between backpack weight and prevalence of lordosis, kyphosis, scoliosis and dropped shoulders in elementary students. International Journal of Pediatrics. 2016,4(6):1859-66.
Radzevičienė L, Kazlauskas A. Posture Disorders and Their Causes in Rural Schools Pupils. Social Welfare: Interdisciplinary Approach. 2016,1(6):118-25. doi.org/10.21277/sw.v1i6.241
Rodríguez-Oviedo P, Ruano-Ravina A, Pérez-Ríos M, García FB, Gómez-Fernández D, et al. School children's backpacks, back pain and back pathologies. Archives of disease in childhood. 2012,97(8):730-2. doi.org/10.1136/archdischild-2011-301253
Roggia B, Filha S, Correa B, Rossi ÂG, editors. Posture and body balance of schoolchildren aged 8 to 12 years with and without oral breathing. CoDAS; 2016: SciELO Brasil.
Kabilmiharbi N, Santhirasegaram T, editors. A study on relationship between carrying schoolbags and the prevalence of neck and back pain among 7–9 year old students. MATEC Web of Conferences; 2017.doi.org/10.1051/matecconf/20178702013
Drzaƚ-Grabiec J, Truszczyńska A, Rykaƚa J, Rachwaƚ M, Snela S, et al. Effect of asymmetrical backpack load on spinal curvature in school children. Work. 2015,51(2):383-8. doi.org/10.3233/WOR-141981
Janakiraman B, Ravichandran H, Demeke S, Fasika S. Reported influences of backpack loads on postural deviation among school children: A systematic review. Journal of Education and Health Promotion. 2017,6.doi.org/10.4103/jehp.jehp_26_15
Gunther J, Kolodziej T, Bish C, Tiberi J. Test-Retest And Interrater Reliability of Two Postural Measures in Post-Menopausal Women With Osteoporosis. Journal of Geriatric Physical Therapy. 2005,28(3):122. doi.org/10.1519/00139143-200512000-00044
Suri C, Shojaei I, Bazrgari B. Effects of school backpacks on spine biomechanics during daily activities: a narrative review of literature. Human factors. 2020,62(6):909-18. doi.org/10.1177/0018720819858792
Brzęk A, Dworrak T, Strauss M, Sanchis-Gomar F, Sabbah I, et al. The weight of pupils' schoolbags in early school age and its influence on body posture. BMC musculoskeletal disorders. 2017,18(1):1-11. doi.org/10.1186/s12891-017-1462-z
Mosaad DM, Abdel-Aziem AA. Backpack carriage effect on head posture and ground reaction forces in school children. Work. 2015,52(1):203-9. doi.org/10.3233/WOR-152043
Minghelli B, Oliveira R, Nunes C. Postural habits and weight of backpacks of Portuguese adolescents: Are they associated with scoliosis and low back pain? Work. 2016,54(1):197-208. doi.org/10.3233/WOR-162284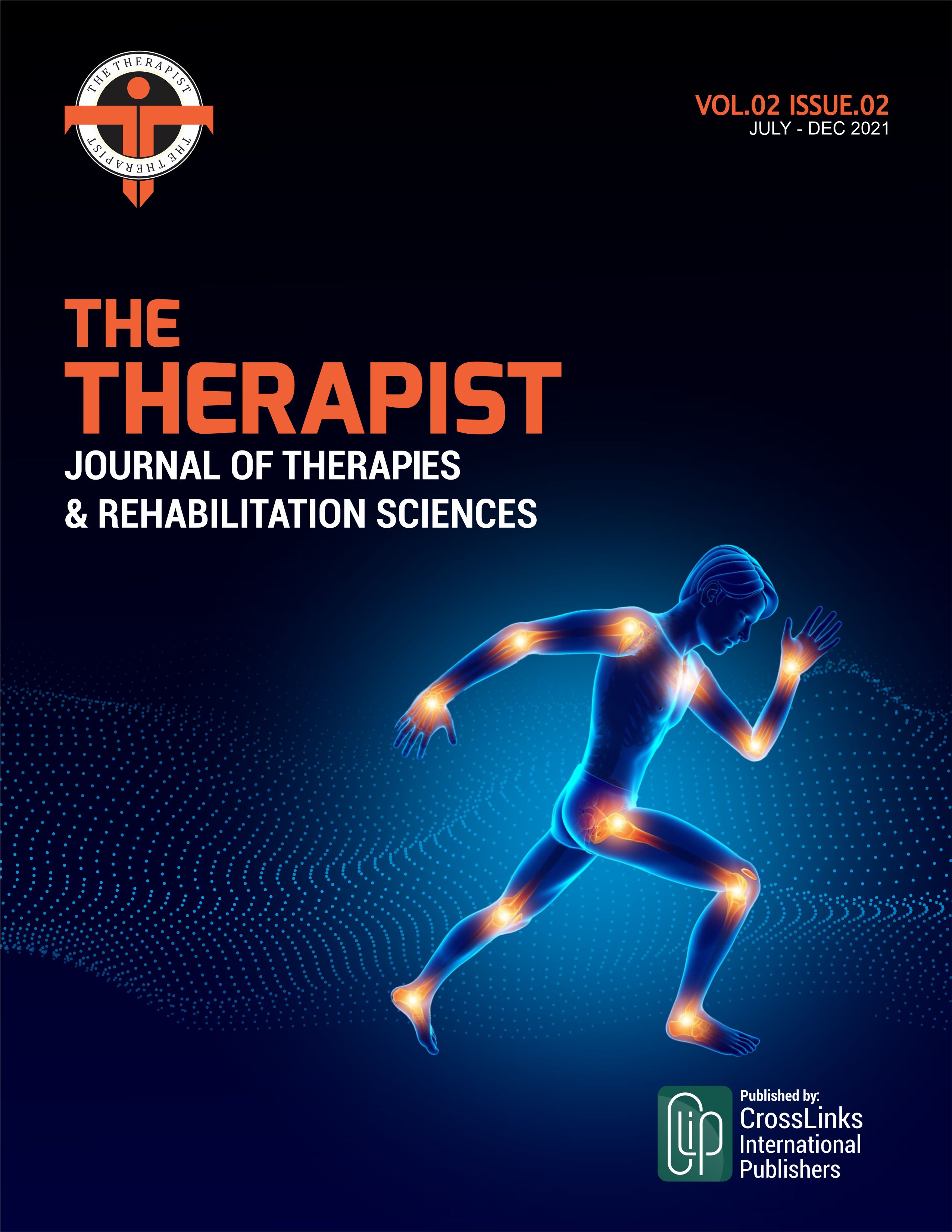 Downloads
How to Cite
Jameel, W., Batool, S., Ashraf, H. S., Sohail, M., Manglani, N., & Safdar, Z. (2021). Assessment of Postural Changes Among School-Going Children Due to Heavy Backpacks in Lahore. THE THERAPIST (Journal of Therapies &Amp; Rehabilitation Sciences), 2(2), 24–28. https://doi.org/10.54393/tt.v2i2.27
License
Copyright (c) 2021 THE THERAPIST (Journal of Therapies & Rehabilitation Sciences)
This work is licensed under a Creative Commons Attribution 4.0 International License.
This is an open-access journal and all the published articles / items are distributed under the terms of the Creative Commons Attribution License, which permits unrestricted use, distribution, and reproduction in any medium, provided the original author and source are credited. For comments editor@thetherapist.com.pk