Prevalence of Uterus Prolapse in Pregnant Females of Lahore: A Cross-sectional Survey
Abstract
Uterus prolapse is a common gynecological condition which is relatively less common during pregnancy. Prolapse maybe conceptualized as a type of herniation or bulge of the pelvic organs into or out of the vagina because of damage or weakness of connective tissues and muscles of pelvic floor area Objective: The objective was to determine the prevalence of uterus prolapse among pregnant females. Methods: This cross-sectional study was conducted in pregnant females. Sample size of 189 was calculated. Standardized questionnaire was used for data collection Results: A bulge or protrusion falling out that you can see or feel in your vagina was moderately present in 5.3% (10) females. Heaviness in the pelvic area was felt by 6.9% (13) females. Along with prolapse there was weakness in pelvic floor muscles and ligaments so that the leakage of urine is present in 3.7% (7) females Conclusions: Uterus prolapse is mildly present in 8.5% and moderately present among 5.3% of pregnant females varying with their age, parity and strength of pelvic floor structures. All females with prolapse have a bulge in their vagina but its severity is different in every woman.
References
Tsikouras P, Dafopoulos A, Vrachnis N, et al. Uterine prolapse in pregnancy: risk factors, complications and management. The Journal of Maternal-Fetal & Neonatal Medicine 2014; 27(3): 297-302. doi: 10.3109/14767058.2013.807235.
DeLancey JO, Low LK, Miller JM, Patel DA, Tumbarello JA. Graphic integration of causal factors of pelvic floor disorders: an integrated life span model. American journal of obstetrics and gynecology 2008; 199(6): 610. e1-. e5. doi:10.1016/j.ajog.2008.04.001
Rusavy Z, Bombieri L, Freeman R. Procidentia in pregnancy: a systematic review and recommendations for practice. International urogynecology journal 2015; 26(8): 1103-9. doi: 10.1007/s00192-014-2595-3.
Jha S, Sanderson P. A review of pelvic organ prolapse during pregnancy. Current Women's Health Reviews 2014; 10(1): 26-32. doi.org/10.1155/2018/1805153
Swift SE. The distribution of pelvic organ support in a population of female subjects seen for routine gynecologic health care. American journal of obstetrics and gynecology 2000; 183(2): 277-85. doi: 10.1067/mob.2000.107583.
Lince SL, van Kempen LC, Vierhout ME, Kluivers KB. A systematic review of clinical studies on hereditary factors in pelvic organ prolapse. International urogynecology journal 2012; 23(10): 1327-36. doi: 10.1007/s00192-012-1704-4.
Jelovsek JE, Maher C, Barber MD. Pelvic organ prolapse. The Lancet 2007; 369(9566): 1027-38. doi: 10.1016/S0140-6736(07)60462-0.
De Vita D, Giordano S. Two successful natural pregnancies in a patient with severe uterine prolapse: A case report. Journal of medical case reports 2011; 5(1): 459. doi.org/10.1155/2018/1805153
Karataylı R, Gezginç K, Kantarcı AH, Acar A. Successful treatment of uterine prolapse by abdominal hysteropexy performed during cesarean section. Archives of gynecology and obstetrics 2013; 287(2): 319-22. doi: 10.1007/s00404-012-2563-4.
Chen L, Ashton-Miller JA, DeLancey JO. A 3D finite element model of anterior vaginal wall support to evaluate mechanisms underlying cystocele formation. Journal of biomechanics 2009; 42(10): 1371-7. doi: 10.1016/j.jbiomech.2009.04.043.
Bonetti TR, Erpelding A, Pathak LR. Listening to "felt needs": investigating genital prolapse in western Nepal. Reproductive health matters 2004; 12(23): 166-75. doi: 10.1016/s0968-8080(04)23110-x.
Marahatta R, Shah A. Genital prolapse in women of Bhaktapur, Nepal. Nepal Medical College journal: NMCJ 2003; 5(1): 31-3.
DeLancey JO. The hidden epidemic of pelvic floor dysfunction: achievable goals for improved prevention and treatment. American journal of obstetrics and gynecology 2005; 192(5): 1488-95. doi: 10.1016/j.ajog.2005.02.028.
Ashton-Miller JA, DeLancey JO. Functional anatomy of the female pelvic floor. Annals of the New York Academy of Sciences 2007; 1101(1): 266-96. doi: 10.1196/annals.1389.034.
Karam JA, Vazquez DV, Lin VK, Zimmern PE. Elastin expression and elastic fibre width in the anterior vaginal wall of postmenopausal women with and without prolapse. BJU international 2007; 100(2): 346-50. doi: 10.1111/j.1464-410X.2007.06998.x.
Bo K, Frawley HC, Haylen BT, et al. An International Urogynecological Association (IUGA)/International Continence Society (ICS) joint report on the terminology for the conservative and nonpharmacological management of female pelvic floor dysfunction. International urogynecology journal 2017; 28(2): 191-213. doi: 10.1002/nau.23107.
Samuelsson EC, Victor FA, Tibblin G, Svärdsudd KF. Signs of genital prolapse in a Swedish population of women 20 to 59 years of age and possible related factors. American Journal of Obstetrics and Gynecology 1999; 180(2): 299-305. doi: 10.1016/s0002-9378(99)70203-6.
Leijonhufvud Å, Lundholm C, Cnattingius S, Granath F, Andolf E, Altman D. Risk of surgically managed pelvic floor dysfunction in relation to age at first delivery. American journal of obstetrics and gynecology 2012; 207(4): 303. e1-. e7. doi: 10.1016/j.ajog.2012.08.019.
Thapa B, Rana G, Gurung S. Contributing factors of utero-vaginal prolapse among women attending in Bharatpur hospital. Journal of Chitwan Medical College 2014; 4(9): 38-42.doi: http://dx.doi.org/10.3126/jcmc.v4i3.11939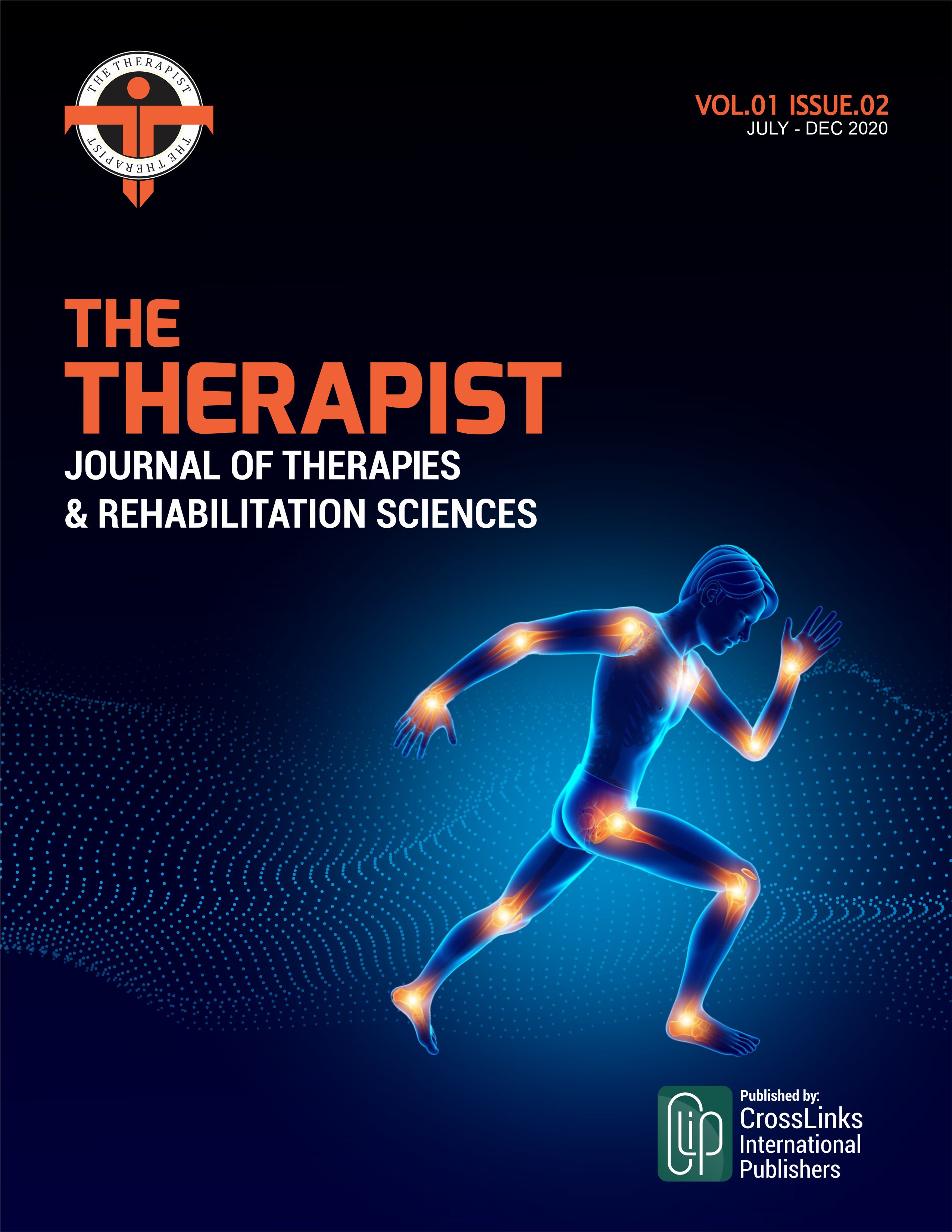 Downloads
How to Cite
Asma, S., Naseer, A., Ashraf, H. S., Sohail, M., Asif, T., & Safdar, Z. (2020). Prevalence of Uterus Prolapse in Pregnant Females of Lahore: A Cross-sectional Survey. THE THERAPIST (Journal of Therapies &Amp; Rehabilitation Sciences), 1(2), 09–13. https://doi.org/10.54393/tt.v1i2.17
License
Copyright (c) 2020 THE THERAPIST (Journal of Therapies & Rehabilitation Sciences)
This work is licensed under a Creative Commons Attribution 4.0 International License.
This is an open-access journal and all the published articles / items are distributed under the terms of the Creative Commons Attribution License, which permits unrestricted use, distribution, and reproduction in any medium, provided the original author and source are credited. For comments editor@thetherapist.com.pk