Effects of Functional Ability in patients with knee osteoarthritis after taking Corticosteroid injection and routine physical therapy
Abstract
Osteoarthritis (OA) is the most well-known type of joint inflammation. It is degenerative joint disease or "extent" joint pain. OA can cause irritation, stiffness, and swelling. Objective: To determine the functional ability of knee OA patients after intra-articular corticosteroid injection and routine physical therapy. Methods: A cross-sectional study was conducted with over 150 participants and the data was collected from Haq hospital and the University of Lahore teaching hospital for 6 months. The data was collected using the nonprobability purposive sampling technique. The knee injury and OA outcome score questionnaire were utilized as the outcome measure (KOOS). SPSS V.25 was used for statistical analysis. Results:  The mean age for the subjects was 55.08±11.88. The statistically significant results were found with pain, symptoms, improved activities of daily living, sports and recreation, and quality of life in the group of patients who have received physical therapy. Conclusions: It is concluded that physical therapy shows better functional ability as compared to corticosteroid injection. But the corticosteroid injections are useful in short-term treatment and exercise therapy can be recommended for patients with severe arthritis as an effective method for long-term improvement.
References
Deyle GD, Allison SC, Matekel RL, Ryder MG, Stang JM and Gohdes DD et al. Physical therapy treatment effectiveness for osteoarthritis of the knee: a randomized comparison of supervised clinical exercise and manual therapy procedures versus a home exercise program. Physical therapy. 2005;85(12):1301-17. doi.org/10.1093/ptj/85.12.1301.
Alshami AM. Knee osteoarthritis related pain: a narrative review of diagnosis and treatment. International journal of health sciences. 2014;8(1):85. doi.org/10.12816/0006075
WYATT FB, Milam S, Manske RC and Deere R. The effects of aquatic and traditional exercise programs on persons with knee osteoarthritis. The Journal of Strength & Conditioning Research. 2001;15(3):337-40. doi.org/10.1519/00124278-200108000-00013
Bennell KL, Hunter DJ and Hinman RS. Management of osteoarthritis of the knee. Bmj. 2012;345:e4934. doi.org/10.1136/bmj.e4934.
Kirwan JR and Rankin E. Intra-articular therapy in osteoarthritis. Bailliere's clinical rheumatology. 1997;11(4):769-94. doi.org/10.1016/S0950-3579(97)80009-X.
Foster ZJ, Voss TT, Hatch J, Frimodig A and Foster ZJ. Corticosteroid injections for common musculoskeletal conditions. American family physician. 2015;92(8).
Petrella RJ. Is exercise effective treatment for osteoarthritis of the knee? British journal of sports medicine. 2000;34(5):326-31. doi.org/10.1136/bjsm.34.5.326.
Jamtvedt G, Dahm KT, Holm I and Flottorp S. Measuring physiotherapy performance in patients with osteoarthritis of the knee: a prospective study. BMC health services research. 2008;8(1):145. doi.org/10.1186/1472-6963-8-145.
Ringdahl E and Pandit S. Treatment of knee osteoarthritis. American family physician. 2011;83(11).
Nejati P, Farzinmehr A and Moradi-Lakeh M. The effect of exercise therapy on knee osteoarthritis: a randomized clinical trial. Medical journal of the Islamic Republic of Iran. 2015;29:186.
Fisher NM, Gresham GE, Abrams M, Hicks J, Horrigan D and Pendergast DR. Quantitative effects of physical therapy on muscular and functional performance in subjects with osteoarthritis of the knees. Archives of physical medicine and rehabilitation. 1993;74(8):840-7. doi.org/10.1016/0003-9993(93)90011-X.
French HP, Fitzpatrick M and FitzGerald O. Responsiveness of physical function outcomes following physiotherapy intervention for osteoarthritis of the knee: an outcome comparison study. Physiotherapy. 2011;97(4):302-8. doi.org/10.1016/j.physio.2010.03.002.
Brus H, van de Laar M, Taal E, Rasker J, Wiegman O and editors. Compliance in rheumatoid arthritis and the roleof formal patient education. Seminars in arthritis and rheumatism; 1997: Elsevier. doi.org/10.1016/S0049-0172(97)80006-6.
Fibel KH, Hillstrom HJ and Halpern BC. State-of-the-Art management of knee osteoarthritis. World Journal of Clinical Cases: WJCC. 2015;3(2):89. doi.org/10.12998/wjcc.v3.i2.89.
Kon E, Filardo G, Drobnic M, Madry H, Jelic M and van Dijk N et al. Non-surgical management of early knee osteoarthritis. Knee Surgery, Sports Traumatology, Arthroscopy. 2012;20(3):436-49. doi.org/10.1007/s00167-011-1858-5.
Medical Advisory Secretariat. Intra-articular viscosupplementation with hylan g-f 20 to treat osteoarthritis of the knee: an evidence-based analysis. Ont Health Technol Assess Ser. 2005;5(10):1-66.
Gibson JN, Poyser NL, Morrison WL, Scrimgeour CM, Rennie MJ. Muscle protein synthesis in patients with rheumatoid arthritis: effect of chronic corticosteroid therapy on prostaglandin F2 alpha availability. Eur J Clin Invest. 1991 Aug;21(4):406-12. doi: 10.1111/j.1365-2362.1991.tb01388.x.
Liang K, Ou X, Huang X, Lan Q. Adrenocortical hypofunction with simultaneous primary aldosteronism: A case report. Medicine (Baltimore). 2019 Mar;98(13):e15033. doi: 10.1097/MD.0000000000015033.
Habib GS. Systemic effects of intra-articular corticosteroids. Clin Rheumatol. 2009 Jul;28(7):749-56. doi: 10.1007/s10067-009-1135-x.
Askari A, Gholami T, NaghiZadeh MM, Farjam M, Kouhpayeh SA, Shahabfard Z. Hyaluronic acid compared with corticosteroid injections for the treatment of osteoarthritis of the knee: a randomized control trail. Springerplus. 2016 Apr 12;5:442. doi: 10.1186/s40064-016-2020-0.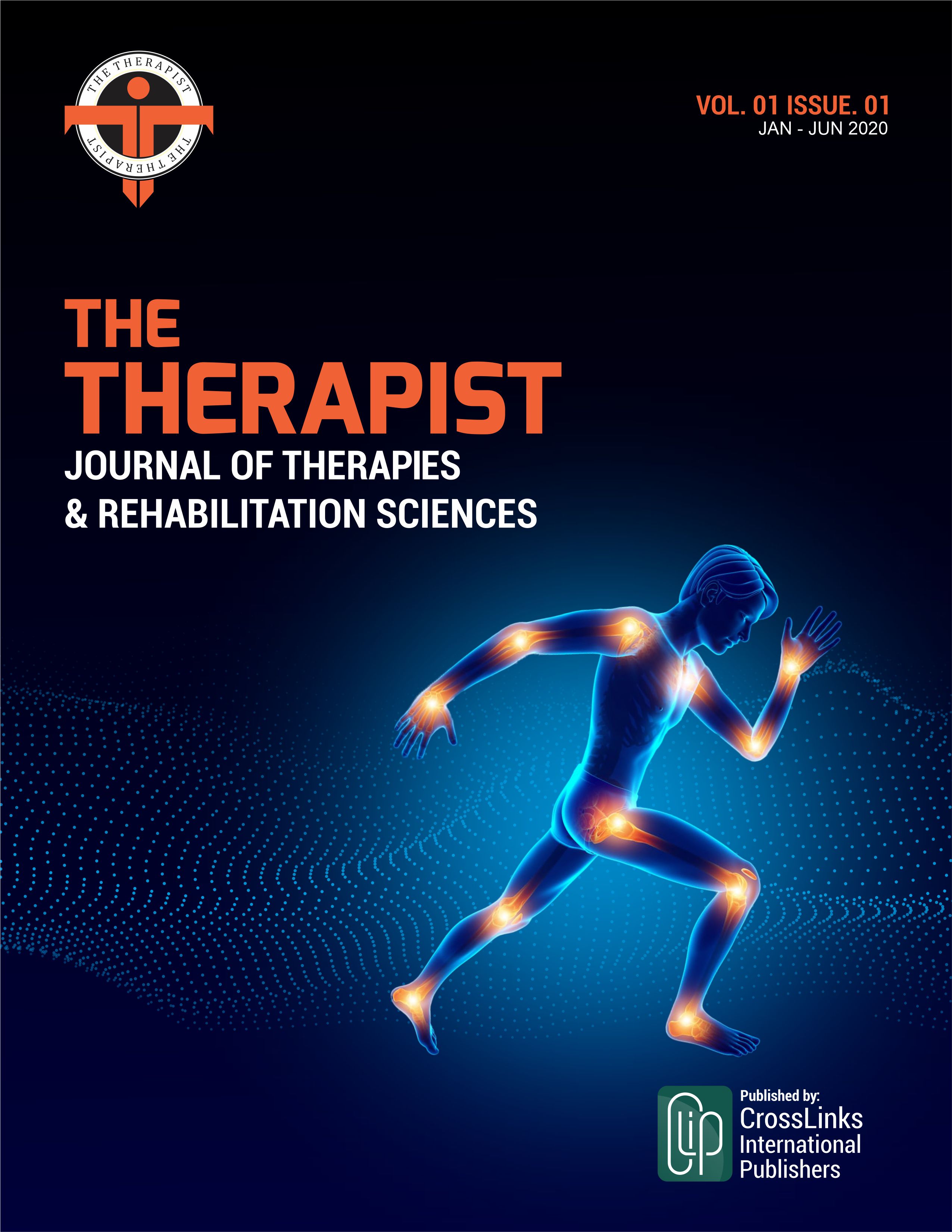 Downloads
How to Cite
Mohiuddin, M., Amjad, F., & Arooj, A. (2020). Effects of Functional Ability in patients with knee osteoarthritis after taking Corticosteroid injection and routine physical therapy . THE THERAPIST (Journal of Therapies &Amp; Rehabilitation Sciences), 1(1), 27–30. https://doi.org/10.54393/tt.v1i1.15
License
Copyright (c) 2020 THE THERAPIST (Journal of Therapies & Rehabilitation Sciences)
This work is licensed under a Creative Commons Attribution 4.0 International License.
This is an open-access journal and all the published articles / items are distributed under the terms of the Creative Commons Attribution License, which permits unrestricted use, distribution, and reproduction in any medium, provided the original author and source are credited. For comments editor@thetherapist.com.pk