Comparative Effects of Scapular Mobilization Combined with Glenohumeral Mobilization Versus Glenohumeral Mobilization Alone On Pain, Disability and Quality of Life in Frozen Shoulder
Pain, Disability and Quality of Life in Frozen Shoulder
Keywords:
Scapular and Glenohumeral Mobilization, Adhesive Capsulitis, Frozen Shoulder, Pain, NPRS, SPADI, Quality of Life
Abstract
Frozen shoulder is an idiopathic ailment of a shoulder characterized by the onset of pain in the shoulders with no apparent cause. It is a condition which is associated with pain, weakness of muscles and restricted range of motion for months and years. Objectives: To compare the effects of Glenohumeral mobilization alone and Scapular mobilization combined with Glenohumeral mobilization on pain, disability, and quality of life in frozen shoulder subjects. Methods: Purposive sampling of frozen shoulder patients from OPDs of the Physiotherapy Department of Government hospitals in Faisalabad was used in this quasi-experimental study. Two groups of thirty people with frozen shoulders were established: First and second groups Group 1 received Glenohumeral mobilization alone for four weeks, while group 2 received Scapular mobilization with Glenohumeral mobilization. The Numeric Pain Rating Scale, Shoulder Pain, Disability Scale, and Health Questionnaire were used to assess pain, disability, and quality of life, respectively. SPSS version 23 was used to analyze the data. Results: The data analysis showed that significance value i.e., P-value is 0.05 indicating that there was greater effect of scapular mobilization combined with glenohumeral mobilization as compared to glenohumeral mobilization alone on pain, disability and quality of life in frozen shoulder patients. Conclusions: Scapular mobilization in conjunction with glenohumeral mobilization was more effective at reducing pain, disability, and quality of life in frozen shoulder patients than either technique alone.
References
Sreenivasu K, Paul Daniel VK, Subramanian MB, Sajeevan T. Effectiveness of end range mobilization with scapular mobilization in frozen shoulder. International Archives of Integrated Medicine. 2016 Aug; 3(8): 53-8.
Kershaw Z, Moran A, Cavallario J. The Effectiveness of Scapular Mobilization Combined With End Range Glenohumeral Mobilization as Compared to Glenohumeral Mobilization Alone in Treatment of Adhesive Capsulitis: A Critically Appraised Topic. International Journal of Athletic Therapy and Training. 2018 Mar; 23(2): 62-5. doi: 10.1123/ijatt.2017-0056.
Yeole UL, Dighe PD, Gharote GM, Panse RS, Shweta A, Pawar PA. Effectiveness of movement with mobilization in adhesive capsulitis of shoulder: Randomized controlled trial. Indian Journal of Medical Research and Pharmaceutical Sciences. 2017 Feb; 4(2): 1-8. doi: 10.5281/zenodo.266638.
Cogan CJ, Cevallos N, Freshman RD, Lansdown D, Feeley BT, Zhang AL. Evaluating Utilization Trends in Adhesive Capsulitis of the Shoulder: A Retrospective Cohort Analysis of a Large Database. Orthopaedic Journal of Sports Medicine. 2022 Jan; 10(1): 23259671211069577. doi: 10.1177/23259671211069577.
Nakandala P, Nanayakkara I, Wadugodapitiya S, Gawarammana I. The efficacy of physiotherapy interventions in the treatment of adhesive capsulitis: A systematic review. Journal of Back and Musculoskeletal Rehabilitation. 2021 Jan; 34(2): 195-205. doi: 10.3233/BMR-200186.
Chan HB, Pua PY, How CH. Physical therapy in the management of frozen shoulder. Singapore medical journal. 2017 Dec; 58(12): 685. doi: 10.11622/smedj.2017107.
Wong PL and Tan HC. A review on frozen shoulder. Singapore Medical Journal. 2010 Sep; 51(9): 694-7.
Tasto JP and Elias DW. Adhesive capsulitis. Sports Medical and Arthroscopy Review. 2007 Dec; 15(4): 216-21. doi: 10.1097/JSA.0b013e3181595c22.
Robinson CM, Seah KM, Chee YH, Hindle P, Murray IR. Frozen shoulder. The Journal of Bone and Joint Surgery. British Volume. 2012 Jan; 94(1): 1-9. doi: 10.1302/0301-620X.94B1.27093.
Manske RC and Prohaska D. Diagnosis and management of adhesive capsulitis. Current Reviews in Musculoskeletal Medicine. 2008 Dec; 1(3): 180-9. doi: 10.1007/s12178-008-9031-6.
Millar NL, Meakins A, Struyf F, Willmore E, Campbell AL, Kirwan PD, et al. Frozen shoulder. Nature Reviews Disease Primers. 2022 Sep; 8(1): 1-6. doi: 10.1038/s41572-022-00386-2.
Lyne SA, Goldblatt FM, Shanahan EM. Living with a frozen shoulder–a phenomenological inquiry. BMC Musculoskeletal Disorders. 2022 Dec; 23(1): 1-7. doi: 10.1186/s12891-022-05251-7.
Sinha U, Sarkar B, Kumar P. Effectiveness of scapular mobilization versus myofascial release of subscapularis on pain, ROM and function in subjects with chronic frozen shoulder: A comparative study. International Journal of Health Sciences and Reearch. 2019 Aug; 9(8): 149-56.
Cho CH, Bae KC, Kim DH. Treatment strategy for frozen shoulder. Clinics in Orthopedic Surgery. 2019 Sep; 11(3): 249-57. doi: 10.4055/cios.2019.11.3.249.
Uppal HS, Evans JP, Smith C. Frozen shoulder: a systematic review of therapeutic options. World Journal of Orthopedics. 2015 Mar; 6(2): 263. doi: 10.5312/wjo.v6.i2.263.
Ewald A. Adhesive capsulitis: a review. American family physician. 2011 Feb; 83(4): 417-22.
Kaddah MD and Mohamed A. End-Range and Scapular Mobilization Technique Versus PassiveStretching Exercises in Treatment of Shoulder Adhesive Capsulitis. The Medical Journal of Cairo University. 2021 Mar; 89(3): 91-8. doi: 10.21608/mjcu.2021.153774.
Antari NK, Kinandana GP, Negara AA. Scapulothoraric Joint Mobilization Improves Range of Motion and Functional Ability in Frozen Shoulder. Sport and Fitness Journal. 2021 Sep; 9(3): 166-175. doi: 10.24843/spj.2021.v09.i03.p04.
Syed SH. Effects Of End-Range Mobilization Technique On Pain And Disability In Patients With Adhesive Capsulitis-A Quasi-Experimental Study. Pakistan Journal of Rehabilitation. 2021 Apr; 10(1): 42-50. doi: 10.36283/pjr.zu.10.1/007.
Espinoza HJ, Pavez F, Guajardo C, Acosta M. Glenohumeral posterior mobilization versus conventional physiotherapy for primary adhesive capsulitis: a randomized clinical trial. Medwave. 2015 Sep; 15(8): e6267. doi: 10.5867/medwave.2015.08.6267.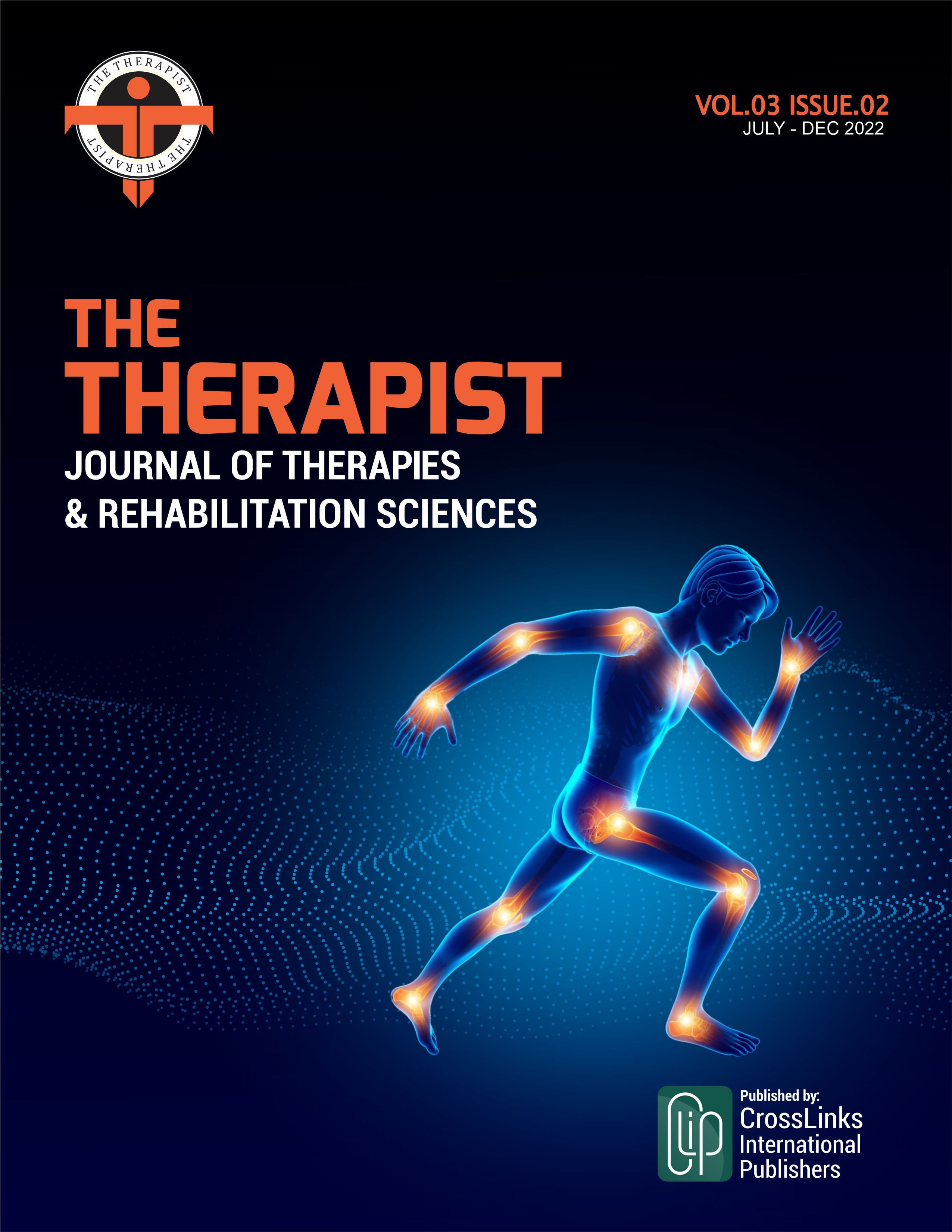 Downloads
CITATION
DOI: 10.54393/tt.v3i02.56
How to Cite
Khalid, A. ., Altaf, F. ., Ajmal, M. ., Zahid, H. ., Ahmad, J. ., & Sajid Khan, R. M. . (2022). Comparative Effects of Scapular Mobilization Combined with Glenohumeral Mobilization Versus Glenohumeral Mobilization Alone On Pain, Disability and Quality of Life in Frozen Shoulder: Pain, Disability and Quality of Life in Frozen Shoulder. THE THERAPIST (Journal of Therapies &Amp; Rehabilitation Sciences), 3(02), 10–14. https://doi.org/10.54393/tt.v3i02.56
License
Copyright (c) 2023 THE THERAPIST (Journal of Therapies & Rehabilitation Sciences)
This work is licensed under a Creative Commons Attribution 4.0 International License.
This is an open-access journal and all the published articles / items are distributed under the terms of the Creative Commons Attribution License, which permits unrestricted use, distribution, and reproduction in any medium, provided the original author and source are credited. For comments editor@thetherapist.com.pk